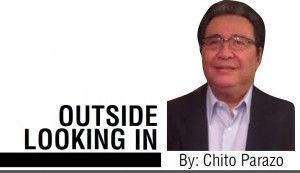 In November of 2013, a powerful typhoon devastated large sections of Eastern Visayas region, particularly the province of Leyte, killing an estimated 6000 people and washed away the homes of more than 200, 000 families.
Despite a P75 billion fund approved last year by Congress for housing resettlement for calamity victims, thousands of indigent families are still living in tents and sub-standard bunkhouses in the flood ravaged areas of Leyte.
According to a recent study made by a church based and civil society groups, only 73,000 poor families of the 205,000 rendered homeless by "Yolanda" were placed in several resettlement areas, leaving behind 130,000 families still staying in makeshift quarters or tents in Tacloban city.
The study also pointed out that the apparent snail's pace construction of housing for these flood victims were being hampered by snags for the timely release of funds for housing resettlements.
The study also showed that only P21 billion out of the P75 billion allocated for housing resettlement had been released by the Department of Budget and Management (DBM).
With less than a year left in Office, President Benigno Aquino still has to give the "green light" to Budget Secretary Butch Abad to release the remaining P54billion fund for resettlement housing.
I don't expect President Noynoy to expedite the release of the remaining funds for resettlement areas for flood victims in Leyte. It is the home province of former First Lady Imelda Marcos , wife of former President Ferdinand Marcos. It was Marcos who was responsible for the incarceration of former Senator Ninoy Aquino, father of President Aquino.
There is too much politics going on that has hampered the construction of houses for calamity victims. A week after the destruction of Leyte, DILG Secretary Mar Roxas berated Tacloban city Mayor Alfred  Romualdez for complaining too much for the apparent slow response of the national government to the needs of the flood victims.
Roxas was quoted in the newspapers as saying "What do you expect?"  "Come to think of it, you are a Romualdez and he (President Noynoy) is an Aquino. If you want us to speed up the rehabilitation of your city, you have to resign as mayor in order for us to take control of the city." Roxas, however denied saying that. He said he was quoted out of context.
We will see how many votes Roxas will get in the Eastern Visayas region, particularly in Leyte and Samar.
During the recent visit of Pope Francis in Tacloban, Leyte, he appealed to those who have more in life and  Philippine government officials to show mercy and compassion to the poor. Too bad, Poe Francis' pleadings did not resonate to the rich and powerful people, particularly ranking government officials, whose wealth are unmeasurable.
Too bad also that the words "mercy" and "compassion" are aliens to President Aquino that it did not get inside his hollow head. Instead of being vindictive to his political foe, he should have shown mercy and compassion to the displaced flood victims.
Unabated corruption and petty squabbles among government officials tasked to undertake the early completion of the resettlement houses prompted former Senator Panfilo Lacson to quit his job as head of the Presidential assistance of Rehabilitation Recovery (OPARR).
An exasperated Lacson exposed in the media the construction of sub-standard bunkhouses for flood victims. Department of Public Works and Highways (DPWH) Secretary Rogelio Singson denied Lacson's accusation.
Although there was an investigation done by Congress that look into the matter, nothing came out of it just like other previous probes done by grandstanding  lawmakers. No subsequent charges were also filed against individuals involved in the supposed sub-standard bunkhouses, including purchases of overpriced construction materials.
As of today, people in the flood ravaged areas of Leyte are still in need of medications, safe drinking water and a sturdy roof over their head in this raining season.
I wonder whatever happened to the numerous financial donations that were sent by many civic organizations from all over the world. Even NBA players like Kobe Bryant, Lebron James and Dwayne Wade  donated thousands of dollars to facilitate the speedy recovery of the ravaged areas of Eastern Visayas.
Social Welfare Secretary Dinky Soliman, up to this time, could not account the total amount of financial donations her office received on behalf of the flood victim, She was quoted in the newspapers as saying that she has a hard time figuring the total amount of money that her department has received from donors since they have no list.
Some of my friends in the media in Manila are saying that most of the financial assistance the government has received from foreign donors have not been spent for flood victims.
Where did the money go? Maybe to the beauty salon frequented by Secretary Soliman who has the flair of changing the color of her hair whenever she pleases. That's just one of the perks enjoyed by corrupt cabinet secretaries under the Aquino regime, particularly if your close with President B.S. Aquino.