By Jean Malanum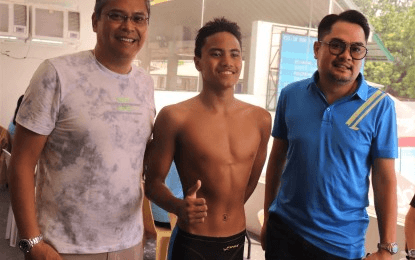 MANILA – The Philippines will send 19 athletes to the 45th Southeast Asia (SEA) Age Group Swimming Championships to be held Jakarta, Indonesia from Aug. 31 to Sept. 2.
The swimmers made it to Jakarta meet after earning slots during a series of open tryouts held in Manila, Vigan in Ilocos Sur and Dumaguete City in Negros Oriental, using the fifth-place finish in the last year's Malaysia edition as the qualifying time standard.
Jamesray Michael Ajido, a double-gold medal winner last year, will lead the team composed of 2022 World Juniors campaigners Amina Isabelle Bungubung, Mishka Sy, Jalid Taguinod, Ivo Nikolai Enot, Joshua Park, Aishel Evangelista, Estifano Joshua Ramos, Lance Rafael Cruz, Patricia Mae Santor, Shairinne Floriano, Peter Cyrus Dean, Jie Angela Mikaela Talosig, Catherine Cruz, Arabella Taguinota, Bea Mabalay and Jennuel Boo De Leon.
US-based Clark Kent Apuada and Ava Samantha Bautista also made it to the team after submitting qualifying times signed and authenticated by the US league organizing head.
Juan Marco Daos, who qualified for the boys 16-18 200m fly (2:08.29), opted to compete at the World Junior Championships in Israel next month.
Coaches Ramil Ilustre (head), Cyrus Alcantara, Manuel De Leon Mark Pido and Wilfredo Cruz will join the Jakarta trip.
"The best of the best as I see it. And since we held the tryouts all over the country, the regions are well-represented in the composition of the team which is a good sign that swimming is changing for the better. They not only represent the Philippine colors but also give pride and honor for their cities and provinces," Olympian Eric Buhain said in a press statement on Wednesday.
"We have a lot of inspiration from these kids, our next generation of swimming champions," the Batangas first district congressman added. (PNA)