By Priam Nepomuceno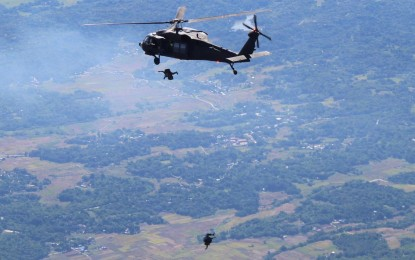 MANILA – The Philippine Air Force (PAF) announced that it has deployed two S-70i "Black Hawk" combat utility helicopters to provide tactical airlift support for the "military free fall" which are among the field training exercises of this year's Armed Forces of the Philippines Joint Exercise Dagat-Langit-Lupa (AJEX DAGIT-PA).
In a statement Sunday, PAF spokesperson Col. Ma. Consuelo Castillo said the event took place at Culili Point, Paoay, Ilocos Norte on Nov. 11.
"The participants in the exercise include aircrew from the PAF's 205th Tactical Helicopter Wing, and para-jumpers from the Philippine Army's Light Reaction Regiment, Special Forces Regiment (Airborne), First Scout Ranger Regiment, and the Philippine Navy's Force Reconnaissance Group," she added.
Castillo said the "military free fall exercise" showed the interoperability of different branches of the armed forces and enhanced their capabilities in executing precise and accurate paradrops, which can be invaluable during actual missions.
The drills, which involve all three services of the AFP, run from Nov. 6 to 17.
Exercises are scheduled in various locations in Luzon and Mindanao.
AFP chief joins 'DAGIT-PA' command post exercise
As this developed, AFP chief Gen. Romeo Brawner Jr. on Monday visited the command post exercise (CPX) of the AJEX DAGIT-PA in Camp Aguinaldo, Quezon City.
"The CPX aims to train designated officers and enhance their understanding of the joint operations process and procedures, and further improve their capabilities and competencies in developing joint planning and execution and grasp of unit capabilities," AFP public affairs office chief Col. Xerxes Trinidad said.
PH Marines to learn a lot from UK counterparts
Meanwhile, Philippine Marine Corps (PMC) deputy commandant and "Kaagapay ng mga Mandirigma mula sa Dagat" (Kamandag) exercise director, Brig. Gen. Jimmy Larida said the Filipino Marines will learn a lot more should their counterparts from the United Kingdom (UK) decide to become a participant instead of being only an observer in the annual drills.
Since the "Kamandag" drills are focused on interoperability, Larida said this will help them determine how well the two units will operate in the field.
Eight personnel from the UK will act as observers for annual exercise for the first time.
Larida also said the PMC will also learn "emerging concepts" coming from their UK counterparts.
The annual drills started on Nov. 9 and will run until Nov. 20.
Around 1,732 PMC personnel will be participating in "Kamandag" along with 902 from the United States Marine Corps.
Also taking part in the exercise are 57 personnel from the Republic of Korea Marine Corps and another 50 from the Japan Ground Self-Defense Force. (PNA)