By Priam Nepomuceno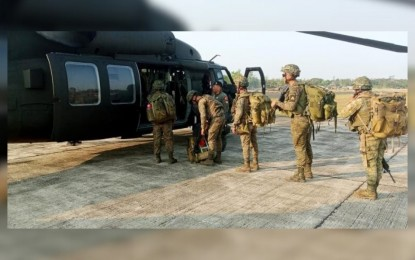 MANILA – Two Philippine Air Force (PAF) S-70i "Black Hawk" combat utility helicopters along with similar American aircraft took part in the "long range multi-ship assault exercise" at Paredes Air Station, Ilocos Norte last April 23.
In a statement Tuesday night, PAF spokesperson Col. Ma. Consuelo Castillo said the two "Black Hawk" helicopters are from their 205th Tactical Helicopter Wing.
Participating for the US side was the 13th Marine Expeditionary Unit and 25th Combat Aviation Brigade.
The exercise is part of this year's "Balikatan" which started April 11 and will end on the 28th.
"The exercise highlighted the airlift of 189 combat troops composed of 46 personnel from the US Army, 27 personnel from the Australian Army, and 86 personnel from the Philippine Army in a continuous long range transport from Fort Magsaysay to Laoag Airport to Paredes Air Station in Pasuquin, Ilocos Norte in a single sortie," Castillo said.
She added that the "multi-ship mission" was composed of two MV-22 "Osprey" tilt-rotor aircraft, two CH-53 "Sea Stallion" helicopters, three UH-60s and two S-70is. Castillo said one of the significant parts of the exercise is the hot refueling operation of all the participating air assets at Laoag Airport.
"Remarkably, it marks the first time for the PAF S-70i(s) to undergo hot refueling, which provided actual experience and important lessons to the pilots and crew for possible future use. The PAF "Black Hawks" were able to fly a total of four hrs and 18 minutes with no shutdown for the duration of the air assault exercise," she said.
Meanwhile, Castillo said PAF and US Air Force (USAF) airlifters last April 18 to 19 participated in a low cost low altitude (LCLA) airdrop exercise held at Col. Ernesto Ravina Airbase, Capas, Tarlac.
Utilizing the USAF Lockheed C-130J, the participants flew in from Brig. Gen. Benito N. Ebuen Airbase, Lapu-Lapu City, Cebu, to their designated drop zone and performed LCLA airdrop, simulating real-life scenario/operation, she added.
Castillo said the LCLA airdrop is a method of delivering supplies from an aircraft. It is accomplished by dropping bundles weighing 80 to 500 pounds, with pre-packed expendable parachutes.
"The term 'low cost' was used since these pre-packed expendable parachutes are relatively cheaper. While the term "low altitude" refers to the height of the aircraft during the drop. Dropping from a lower altitude proved to be more accurate. The drop zone could be in the open sea or coastal shorelines," she added.
Castillo said that prior to the actual flight, PAF and USAF airlifters conducted a series of ground training and detailed mission planning.
"This is an opportunity for the PAF airlifters to enhance their operational readiness and improve their ability to deliver goods and supplies during natural disasters and calamities, particularly to remote islands in the Philippine archipelago and resupply during focused military operations," she added. (PNA)