By Priam Nepomuceno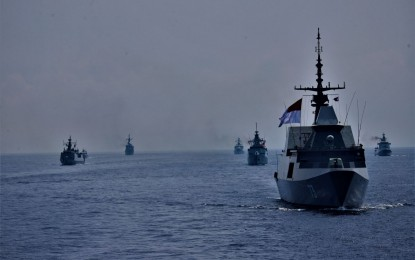 MANILA – The Philippine Navy (PN) on Monday announced that two of its ships, the BRP Antonio Luna (FF-151) and BRP Andres Bonifacio (PS-17), participated in the seagoing phase of the second ASEAN Multilateral Naval Exercise (AMNEX) which was held last May 13 to 14.
In a statement, Navy spokesperson Capt. Benjo Negranza said the maneuvers took place near Grande Island, Zambales, and Lubang Island, Bataan.
Nine ships from participating Association of Southeast Asian Nations (ASEAN) navies joined the seagoing phase of the AMNEX, he added.
Participating warships are also from Indonesia, Thailand, Brunei, Singapore, Malaysia, and Vietnam.
"The two-day phase was composed of exercises and maneuvers designed to enhance interoperability and maritime responsiveness, improve synchronization and communication, and develop mutual trust and understanding among participants in the conduct of maritime operations and humanitarian assistance and disaster response," Negranza said.
These include photo exercise, maritime search and rescue, publication exercise, flash exercise, deck landing qualification, night steaming in company, intelligence surveillance reconnaissance, and maritime interdiction operation with visit board search and seizure.
"AMNEX 2023 allows and capacitates ASEAN navies to respond to common regional maritime threats and challenges through interoperability, maritime responsiveness, and readiness," he added.
This year's AMNEX started May 12 and will end on the 16th. It also provides a platform for the PN to further the conduct of naval diplomacy as one of the effective tools to promote interests and uphold territorial integrity. (PNA)