It's been a rocky year for celebrity romance – young and old alike.
Over the past two days, at least three star couples have split. The latest: Scarlett Johansson and Ryan Reynolds.
"After long and careful consideration on both our parts, we've decided to end our marriage," the couple said in a statement released by Reynolds' publicist today. "We entered our relationship with love and it's with love and kindness we leave it. While privacy isn't expected, it's certainly appreciated."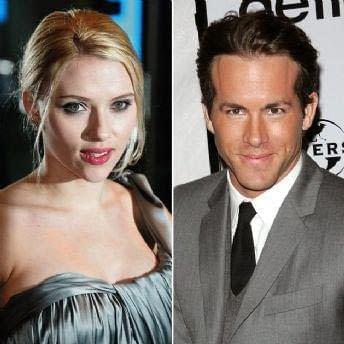 Johansson, 26, started dating Reynolds, 34, in 2007. The couple announced their engagement in May 2008 and married that September in Vancouver, B.C.
On Monday, People magazine reported that one of Hollywood's young golden couples, Zac Efron and Vanessa Hudgens, have called it quits four years after they met on the set of "High School Musical."
Efron, 23, recently spoke about his relationship to the 22-year-old Hudgens, saying their love was "exactly how it should be. It's real."
Michael C. Hall and his wife, Jennifer Carpenter, have been having a rough time too. The co-stars of the cable series "Dexter" have been married for two years – on television they played brother and sister – but their publicists let it be known Monday evening that, "having been separated for some time," they were calling it quits.
Sadly love is not enough, as Liz Hurley knows all too well.
After a U.K. tabloid published a picture of the 45-year-old actress-model kissing Australian cricket player Shane Warne, she announced on Twitter that she had separated months before from husband Arun Nayar.
"Not a great day," Hurley tweeted Sunday. "For the record, my husband Arun & I separated a few months ago. Our close family & friends were aware of this."
Hurley married Nayar, an Indian-German textile heir and software entrepreneur, in 2007, in two lavish ceremonies – in a castle in England and a palace in India. The couple then moved with Hurley's 8-year-old son Damian to an organic farm in Gloucestershire, where she has been working on a line of healthy snack foods.
Warne also posted a statement on his website Monday, revealing that he and his wife Simone had split a while back.
"It is a private matter so we did not make it public," he wrote. "We remain friends and will continue to be good parents."
After Hurley and Warne met at a racing event in June, they began exchanging flirty messages via Twitter.
"Hello new Australian friend, how nice to have met you & in such sexy surroundings. I like the papers saying we're old friends…" Hurley wrote on July 29.
Perhaps will see Hurley and Warne become more than friends in 2011. But for now we look back at some of the most surprising splits of 2010.
Tony Parker and Eva Longoria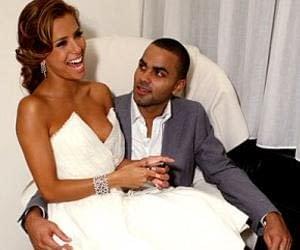 In their short three-year marriage, "Desperate Housewives" star Eva Longoria and basketball star Tony Parker battled rumors of infidelity.
Perhaps it all became too much. In November, the couple filed for divorce in Los Angeles Superior Court, citing "irreconcilable differences."
Rumors first surfaced that the San Antonio Spurs star had cheated on his wife a year after the couple's 2007 storybook wedding in a 17th century French castle. But Longoria stood by her man and told reporters she was eager to start a family.
Since the breakup, tabloid rumors have surfaced that Longoria may have cheated on Parker too.
Charlie Sheen and Brooke Mueller
It didn't come as much of a surprise when Charlie Sheen announced his divorce from Brooke Mueller in November.
After all, Sheen, the "Two and Half Men" star, had been mostly estranged from his wife since he allegedly assaulted her last Christmas. But the two, who have twin sons, had also been trying – at least publicly – to work things out. Both completed stints in rehab and Mueller refused to testify against Sheen in the assault case.
But once Sheen accepted a plea bargain and was given probation in August, the path toward divorce seemed clear. Just days before filing the petition, Sheen was briefly hospitalized after New York police reported finding him "emotionally disturbed" in a hotel room. The room was reportedly trashed after Sheen spent a wild night with a porn star.
Billy Ray and Tish Cyrus
In October Miley Cyrus' parents, Billy Ray and Tish, told People magazine they had filed for divorce, citing irreconcilable differences after 17 years of marriage.
"As you can imagine, this is a very difficult time for our family," they said in a statement. "We are trying to work through some personal matters. We appreciate your thoughts and prayers."
The couple has five children, including pop star Miley, who appears to be reacting publicly to her parents' split. Recently, she was videotaped taking hits from a bong that was reportedly filled with a natural herb called salvia, which is legal in California.
"Sorry guys. I had no idea," Billy Ray wrote on his Twitter account last Friday. "Just saw this stuff for the first time myself. I'm so sad. There is much beyond my control right now."
Christina Aguilera and Jordan Bratman
Also in October, singer Christina Aguilera, 29, announced she was ending her five-year marriage to music executive Jordan Bratman.
"Things were so unhealthy and unhappy for both Jordan and me, I knew I had to end it," Aguilera told People earlier this month. "I really didn't want to hurt Jordan, and I felt torn about splitting our family up."
But Aguilera, also the product of divorce, said she realized that her troubled marriage would soon take its toll on their two-year-old son, Max.
"When you're unhappy in your marriage, your children are the ones who suffer," she says. "That's the last thing I wanted for my son."
Meanwhile, Aguilera appears to have grown close with production assistant Matt Rutler, whom she met on the set of her debut film "Burlesque."
"He's the kind of person you could spend hours with on the phone talking to and all of a sudden it's daylight," Aguilera told People.
Courteney Cox and David Arquette
October will be remembered as a busy month for breakups. That month, Cox and her husband, actor David Arquette, also called it quits after 11 years of marriage.
"We're not having sex, and I completely understand," Arquette, 39, told Howard Stern. "She's in a place of wanting to be real and emotional. She's an emotional being. She's an amazing woman. If it doesn't feel right, she doesn't feel like bonding in that way."
Arquette said that Cox, 46, wants him to grow up.
"She says that to me: 'I don't want to be your mother anymore,'" he said. "I appreciated that. I respected that. I've been going to therapy. I'm trying to grow up."
Meanwhile rumors were swirling that Cox has been having a more-than-professional relationship with Brian Van Holt, 40, her co-star on her ABC comedy "Cougar Town." RadarOnline.com quoted an unnamed source saying that Holt and Cox often spend time together off-set.
Halle Berry and Gabriel Aubry
Actress Halle Berry, 43, and model Gabriel Aubry, 34, tried to keep their May breakup amicable, but the Internet was still abuzz.
Aubry told "Access Hollywood" through a release from Wilhelmina Models that he has "only love and respect" for his ex, with whom he has 2-year-old daughter, Nahla.
"She is, and will forever be, one of the most special and beautiful people that I have ever known," Aubry said. "While I will not comment on all of the wild inaccuracies being speculated about in the media, I am sad to say that Halle and I have decided together to separate at this time."
People magazine reported a slightly different, and messier, breakup story, using information it acquired from an unnamed source close to Berry.
"She kicked him out months ago because he wasn't able to pull his weight in the relationship, and she wanted to move on," the source told People.
According to Us magazine, Berry focused on Aubry's career disappointments, such as his failed New York City Cuban restaurant, which closed after two years.
"Halle called him a loser," a source told Us. "She'd rub it in his face that she's an Oscar-winning actress, and he's just a model. He couldn't take it anymore."
Jim Carrey and Jenny McCarthy
Carrey and McCarthy announced the amicable end of their five-year relationship on Twitter.
In a statement to People magazine in April, McCarthy said that she was grateful for the years she'd spent with Carrey.
"I will continue to be in his daughter's life and will always keep Jim as a leading man in my heart," McCarthy said.
Carrey tweeted a similar sentiment: "I'm grateful for the many blessings we've shared and I wish her the very best! S'Okay!"
The breakup came as a bit of a shock, considering that the couple was all smiles as recently as February when the pair hosted an event to support McCarthy's autism foundation, Generation Rescue.
"Jenny is the first person I have been with where I don't have a giant question mark over my head," Carrey told People on the red carpet of the event.
But the toll of McCarthy dealing with her son Evan's autism and Carrey's long battle with depression may have finally cost the couple their relationship.
Sandra Bullock and Jesse James
Less than two weeks after Sandra Bullock received her best actress Oscar, a bombshell, in the form of tattoo Michelle "Bombshell" McGee hit her marriage. Bullock was assailed by a flood of reports that her husband Jesse James, had multiple affairs.
It spelled the quick demise of their marriage. Beginning in March, Bullock moved out of their Los Angeles home, filed for divorce and began proceedings to adopt as a single mom a baby boy named Louis.
By August, both appeared to have moved on. James was linked to celebrity tattoo artist Kat Von D., while, for single mom Bullock, there was only one man in her life — son Louis.
"We have both moved on with our lives and only want the best for each other," she told People magazine. "Anything else that is said on my behalf is inaccurate."
Kate Winslet and Sam Mendes
In a case of life imitating art, Winslet and Mendes broke up after he directed her in the critically acclaimed dark tale of marriage gone wrong, "Revolutionary Road."
After seven years together, the couple, both Oscar-winners, announced the split in late March through a statement released jointly by their lawyers.
"Kate and Sam are saddened to announce that they separated earlier this year," the statement read. "The spilt is entirely amicable and is by mutual agreement."
Kim Kardasian and Reggie Bush
With both Kardashian and Bush being so young, it makes sense that this wasn't a relationship that was going to last forever. The pair had spilt before, but this breakup, announced in late March, seems to have been the nail in the coffin.
The two seemed happy and partied together when Bush's team, the New Orleans Saints, won the Super Bowl. The two even vacationed in Costa Rica in early March.
Since they parted ways, Kardashian has been linked with football star Miles Austin, rapper Kanye West, Halle Berry's ex Gabriel Aubrey and now New Jersey Nets' Kris Humphries.