By Christopher Lloyd Caliwan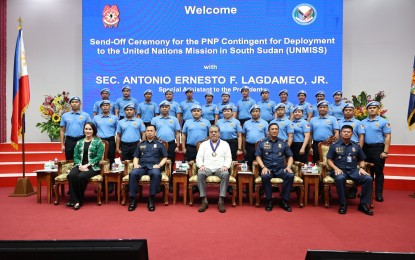 MANILA – The Philippine National Police (PNP) on Tuesday said it has deployed 25 police officers to the United Nations (UN) Mission in South Sudan (UNMISS) for a peacekeeping mission.
PNP chief Gen. Benjamin Acorda Jr. led the send-off ceremony for the troops on Monday, where he emphasized the significance of the Philippines' commitment to international peacekeeping efforts.
"To the 25 members of the PNP contingent who are embarking on this mission, you are about to represent the PNP, our nation, and our people on an international stage. Your journey will be arduous, filled with both triumphs and trials, but I have absolute confidence that you will carry our flag with unwavering pride and unwavering integrity," Acorda added.
The PNP chief also encouraged them to serve with honor, courage, and unwavering dedication.
He also commended their willingness to venture into an environment filled with uncertainty and danger and for their selflessness and profound sense of duty to uphold the ideals of the UN.
Special Assistant to the President, Secretary Antonio Ernesto Lagdameo Jr., who also graced the event, reminded the troops of the significance of their mission and the trust that the nation places in their hands.
The Philippines has a long-standing tradition of contributing to UN peacekeeping missions.
Over the years, Filipino police officers have consistently served with honor and distinction in various UN operations worldwide, often in challenging conflict zones, where they risk their lives to protect vulnerable communities and uphold the principles of the organization. (PNA)