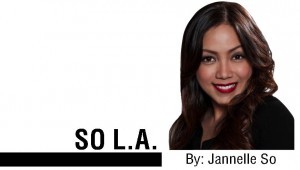 On the morning after the red carpet press conference that formally announced his upcoming fight against undefeated American champion Floyd Mayweather, Jr., Filipino boxing pride Manny Pacquiao was business as usual – jogged from his house to the Pan Pacific Park; did two rounds around the park before stretching and ab work; and shot some hoops at the basketball court. The schedule ran a little late, however, with Pacquiao arriving at the park at past 6:00 a.m. when in the past week he arrived at 5 a.m.
"Napagod siguro kahapon, parang 15 hours kami straight, puro interviews" said Edward Lura, one of the most trusted friends of Pacquiao, and a Team Pacquiao old-timer. (He probably got tired from yesterday. We had a 15-hour day doing interviews.)
Before his 11 a.m. appearance on the red carpet on March 11th, Pacquiao, accompanied by Lura and a small entourage, started their day at the ESPN building in L.A. Live.
"Manny went early to the ESPN office to guest in seven different program formats of the the station, from news to feature programs, including the high-rating show of Max Kellerman, 'SportsNation,'" reported veteran news videographer Rene Casibang who has been covering Pacquiao fights since 2005. He was able to shoot footage of Pacquiao's activities before the press con. "In his comment to Kellerman's question about him winning, Manny Pacquiao said, 'You know in boxing, you can not win if you're always just on defense. Boxing is about punches, how you connect punches.'"
Outside the Nokia Theater, Pacquiao, who has long been a press favorite because of his accommodating nature and interesting quotes, gamely answered more questions from more than 700 credentialed media members who had been waiting in line to talk to him.
"A football field is 100 yards long. Our carpet was longer," said Fred Sternburg from Pacquiao's public relations team.
It took him more than 2 hours to finish the long press line which included popular Hollywood entertainment television outlets E! and TMZ. Not to be outdone is the Filipino media who came out in full force. Outlets from the Philippines who in the past only sent their coverage teams a week or two before the fight, sent their respective crews. Philippine media giants ABS-CBN and GMA both went live from the carpet, to cover the only time the two fighters will face each other before their much-awaited May 2nd bout at the MGM Grand Garden Arena in Las Vegas.
"Kaka-iba talaga itong laban na ito. This is the biggest fight of my career, the fight of the century. Dapat ninyong abangan at hindi palampasin," Pacquiao told us on the red carpet. He was being whisked off for more live interviews at the end of the line; but graciously stopped to talk to us. (This is a different fight… You should watch out for this and not miss it.)
Inside the theater, understanding the massive hype that the fight is generating, Pacquiao, a devout Christian, took the opportunity to talk about his faith, starting his speech by thanking God for a good weather.
"The fight is on and we will do our best to make you happy," he continued. "The most important thing is the name of the Lord and the name of the Lord will be glorified. I want to let the people know that there is God who can raise someone from nothing into something. That's me, that's me, I came from nothing into something. I owe everything to God. He gave me this blessing to it's all praise to the Lord."
At breakfast, the following day, Pacquiao continued talking about God, even while icing his left leg due to cramps: "Everything has a purpose. Everything happens for a reason," he said, smiling.
The meal spread at the dining table inside his residence in Los Angeles consisted of lunch dishes – rice; tinola or chicken ginger soup; pinakbet, which is an Ilocano vegetable dish; and fried beef meat, or "tapa." Pacquiao ate a plateful of rice, soaked in tinola broth and mixed with the beef meat. He capped off the carbohydrates-rich meal with banana.
But before he even started eating, his phone rang. His wife, Vice Governor Jinkee Pacquiao, and their daughter Queenie were on the other line, wanting to FaceTime.
"Daddy, we're reading the Bible," said 6-year old Queenie.
"What verse did you learn," Pacquiao asked his daughter.
"I am your God who brought you out of Egypt," Pacquiao's fourth child quoted a verse from Exodus.
Pacquiao then told Jinkee to remind their sons Jimwell and Michael to read the Bible.
"That's the only investment we can invest for them" he told his wife. "Teach them the Bible and about God."
Jannelle So is credited for creating, hosting and producing America's first and only locally-produced daily talk show for Filipinos, that ran for 8 ½ years under her leadership, making it the longest-running Filipino talk show outside of the Philippines. On her spare time, she loves to travel. This new column will document her sojourns as she shares what she learns an discovers on her trips. Connect to her on Facebook, Twitter and Instagram; or email her at sojannelle77@gmail.com.