By Ferdinand Patinio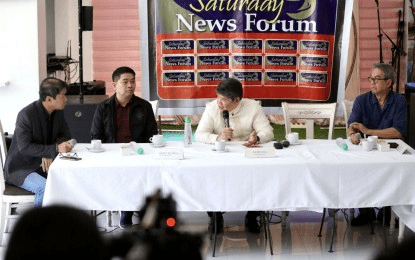 MANILA – Forty-three Filipinos from Gaza are coming home in two batches starting Sunday, the Department of Foreign Affairs (DFA) said on Saturday.
At a news forum in Quezon City, Undersecretary for Migrant Workers' Affairs Eduardo de Vega said the 43 migrant Filipinos will be arriving with their children.
The first batch, consisting of 20, will be coming home Sunday.
The remaining 23 are expected to arrive either Monday or Tuesday.
De Vega said the Filipinos, married to Palestinians, are living and working in Gaza, the besieged city that has been the center of the Israel-Hamas conflict since Oct. 7.
As soon as they arrive, the government through the Overseas Workers Welfare Administration (OWWA) would provide accommodation and transportation.
De Vega added that they would also be provided with other assistance as ordered by President Ferdinand R. Marcos Jr.
The soon-to-be repatriated Filipinos are part of the 134 who got stranded in the war-torn Gaza Strip. They have been granted permission to cross the Rafah border.
However, De Vega also said not all Filipinos in Gaza will evacuate after their Palestinian spouses were not allowed to exit.
He assured the Philippine government would continue to work with relevant authorities to facilitate their spouses' exit.
Additionally, De Vega said 50 Filipinos working in Israel will arrive on Monday (23) and Tuesday (27).
On Oct. 15, the DFA ordered the mandatory repatriation and evacuation of Filipinos in Gaza after the Israeli military vowed a coordinated offensive into Palestinian territory.
The Anadolu news agency reported on Saturday, that thousands of Palestinian workers in Israel have lost contact with relatives in the Gaza Strip as a result of Israeli aggression.
"The Ministry of Labor in Gaza said Israel has given work permits to nearly 18,500 workers from Gaza since October 2021. But due to Jewish holidays, a large number of workers were back in Gaza when the war broke out," read the Anadolu report.
Nearly 10,800 people have been killed in the conflict, including at least 9,227 Palestinians and more than 1,538 Israelis, Anadolu added. (PNA)