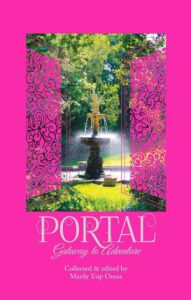 Los Angeles – A unique collection of personal essays titled Portal (Gateway to Adventure) will be launched on October 11, 2015, Sunday at 3 in the afternoon at the posh Del Rey Yacht Club in Marina del Rey, California. Forty-three stories by forty-three women who are all graduates of St. Theresa's College, an exclusive girls' school in the Philippines, once run by Belgian nuns, are contributors to this epic anthology. The stories of the 380-page tome carry one theme – a place, city or country that serves as a portal or gateway that triggers memories of events, epiphanies or victories. Some writers wrote of adventures of love, reconciliation, spiritual rebirth, forgiveness, achievements – even of mountains and birds.
Half of the Portal writers reside in Manila, while the other half come from all parts of the USA, even Australia and Canada. One contributor is a nun, also a Theresian, but now based in Taiwan. There are 25 graduating batches from three branches of St. Theresa's College – Manila, Quezon City and Cebu City – that are represented in Portal. A cross-section of the writers' careers reveals the Theresian spirit to serve. Some writers are former judges, lawyers, doctors, nurses, government appointees, religious ministers and servant-leaders. Some continue to be writers, counselors, athletes and entrepreneurs.
Portal (Gateway to Adventure) was collected and edited by Marily Orosa, a writer of creative non-fiction and founder and president of Studio 5 Designs, a pioneer in the field of graphic design in Manila. Apart from Portal, she has published many award-winning coffee table books and corporate collaterals for a sterling list of clients. Orosa is also an alumna of St. Theresa's College.
The book will be launched in Los Angeles, San Francisco, Toronto and Manila in 2015 and in other key cities in 2016.