By Nef Luczon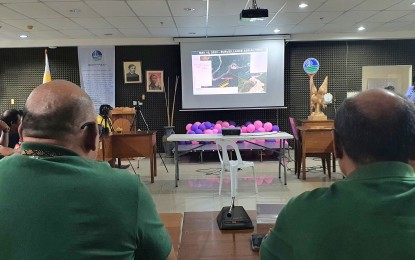 CAGAYAN DE ORO CITY – Five Chinese nationals and 13 Filipinos are facing charges for violating multiple laws after a joint government operation for illegal mining operations in this city's Iponan River.
Ban Mikhael Pacuribot, chief of the legal division of the Department of Environment and Natural Resources in Northern Mindanao Region (DENR-10), said they are coordinating with the Bureau of Immigration for the full identities of the foreigners caught in the act of engaging in illegal mining operations on May 13, although they have already the list of names which they were known in the community.
"We have been receiving information from our partners in the field, but it was when we visited the area that we saw these (Chinese) nationals present there," he said.
Pacuribot said the suspects have been operating in Barangay Tumpagon and Pigsag-an, covering around 7.3 hectares, for almost 24 hours daily.
All the suspects will be facing charges for violating several laws for operating without a proper permit and having caused the destruction of nearby surroundings.
The charges include violations of Republic Act (RA) 7942, or the Philippine Mining Act; RA 7076, or the Small Scale Mining Act; RA 9275, or the Philippine Water Act; and RA 9149, or the Wildlife Resources Conservation and Protection Act.
The suspects will also face violations of Presidential Decree (PD) 1067 or the Water Code of the Philippines; PD 705 or the Forestry Code of the Philippines; and Article 151 of the Revised Penal Code, which "punishes unjustifiable disobedience of lawful orders of persons in authority or their agents."
Mines and Geosciences Bureau-10 Director Felizardo Gacad Jr. said the mining operations have been existing for some time, based on the equipment and machinery they confiscated.
"The machines were likely used for sluicing, which was a way to extract gold. With that, they also contributed to the pollution in the river," he said.
Sluicing is the use of running water to break down gold-bearing earth, and a sluice box was used to recover the gold. (PNA)