By Nanette Guadalquiver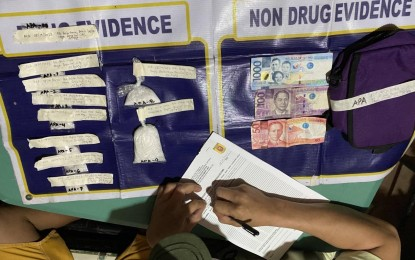 BACOLOD CITY – Five persons were arrested while almost PHP1.3 million in shabu were seized in four separate buy-busts in this city over the weekend, reports of the Bacolod City Police Office (BCPO) on Monday showed.
"These are positive results as we strengthen the war on drugs by having intelligence driven anti-drug operations," Col. Noel Aliño, police city director, said in a statement.
On Sunday night, operatives of Police Station 5 apprehended Wilvie Tulbo Leduna, 47, at Gate 2 of Patricia Homes Subdivision in Barangay Granada.
Leduna, a resident of Barangay Villamonte and tagged as street-level individual (SLI), sold PHP300 worth of shabu to an undercover policeman and yielded 6 grams of the prohibited substance worth PHP40,800.
In the neighboring Barangay Vista Alegre, Alfredo Pagot Aplasca Jr., 57, was arrested by personnel of the City Drug Enforcement Unit during a buy-bust on Saturday.
A police poseur-buyer bought a sachet of shabu for PHP1,000 from the suspect, considered a high-value individual, at his residence around 4:25 a.m.
Operatives also seized from his possession two knot-tied and seven sachets of shabu, weighing 154 grams, valued at PHP1.04 million.
Around 1:45 a.m. on Saturday, the drug enforcement team of Police Station 2 also arrested two SLIs in Barangay 1.
The suspects were identified as Val Helbert Bandiola Latorre, 23, and his 18-year-old male companion, both residents of the village.
After they sold a sachet of shabu worth PHP500 to an undercover policeman, operatives recovered from their possession one big and five elongated sachets of shabu, weighing seven grams, with a standard drug price of PHP47,600.
On Friday night, a construction worker was apprehended by personnel of Police Station 5 during a sting operation in Greensville 2, Barangay Villamonte.
Jose Perez Godinez, 39, of Barangay Estefania sold a sachet of shabu for PHP500 to a police poseur-buyer around 10:30 p.m.
He also yielded three small and 14 medium sachets of the same prohibited substance, weighing 20 grams, valued at PHP136,000.
Charges for violation of Republic Act 9165 or the Comprehensive Dangerous Drugs Act of 2002 are being readied against the suspects. (PNA)