By Ferdinand Patinio
By Jose Cielito Reganit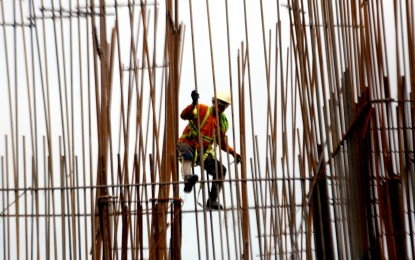 MANILA – More than half of close to 100 construction projects inspected in Metro Manila are not compliant with occupational safety and health (OSH) standards, the Department of Labor and Employment (DOLE) reported on Wednesday.
Based on the report of the Bureau of Working Conditions (BWC), the DOLE said 52 of 95 construction projects it has inspected since from Aug. 1 to 15 were found to have violations.
Among the top violations recorded are non-submission or no copy of the Construction Safety and Health Program in the workplace and the absence of or inadequate designated OSH personnel, such as safety officers and first aiders.
Other top violations are non-conduct of mandatory OSH training for all workers, including toolbox meetings; absence of a safety and health committee; and non-issuance of personal protective equipment (PPE) to workers and inadequate or improper use of PPE.
The 20 construction sites that are found to have violations of PPE are advised to implement immediate correction.
Furthermore, an authority to inspect will be issued immediately for a complete inspection of the said sites, while the remaining sites will be continuously monitored by the team.
Those with findings on OSH personnel are referred to appropriate training, such as the 40-hour Construction Occupational Safety and Health Training provided by OSHC or any DOLE-accredited safety training organization and the Standard First Aid and Basic Life Support Training provided by any first aid training provider for first aid certification.
The site visits by the DOLE team, composed of personnel from the BWC and Occupational Safety and Health Center (OSHC), and labor inspectors from the DOLE-National Capital Region on ongoing construction projects in the region started on the first week of August.
On the other hand, the DOLE reminded construction sites to strictly comply with OSH standards to ensure safe and healthful working conditions.
It noted that major accidents resulting in disability or death, or major illnesses are likely to occur among high-risk establishments if no preventive or control measures are in place, the guidelines further state.
Under Department Order No. 198, series of 2018, or the Implementing Rules and Regulations of the OSH Law, construction sites are among 'high-risk establishments'.
These are workplaces where the presence of a hazard or potential hazard may affect the safety and health not only of workers within the company but also of persons outside the establishments' premises. (PNA)