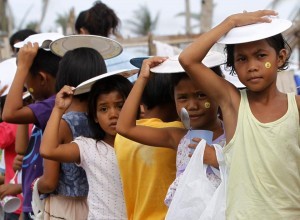 MANILA (Mabuhay) − A new survey taken by pollster Social Weather Stations in the first quarter of 2014 found that 53 percent of Filipinos, equivalent to 11.5 million households, considered themselves poor.
The 2014 poll figures published in BusinessWorld Monday night dipped slightly from the 55 percent in December 2013, but is above the 2013 average by one point.
Also, the SWS poll found that 39 percent, or about 8.5 million families, claimed to be poor in terms of food.
The 2014 food poverty percentage is down two points from the 41 percent who rated themselves "food-poor" last December, and is the same as last year's average.
The SWS poll was taken from March 27 to 30, and used face-to-face interviews of 1,200 adult Filipinos. The subjects were asked how they regarded their families: poor, not poor or on the line, with regard to both poverty and food poverty.
Respondents were also asked how much money would be required for their households not to be considered poor.
Error margins of ±3% for national and ±6% for area percentages applied to the survey.
SWS said the declines in self-rated poverty and food poverty stemmed from improved numbers in Metro Manila, the Visayas and Mindanao.
In Metro Manila, self-rated poverty went down by nine points to 37 percent. This was the lowest it went down since the 35 percent in August 2012.
Self-rated poverty also dipped four points to 64 percent in the Visayas, and by three points to 56 percent in Mindanao.
The SWS pointed out that the March 2014 regional self-rated poverty rates were higher than their 2013 averages for Balance Luzon, Visayas and Mindanao.
However, Metro Manila's 2014 self-rated poverty percentage was lower than its 2013 average.
Food poverty figures also fell in Metro Manila, Visayas and Mindanao, but improved in Balance Luzon.
It fell seven points to 25 percent in Metro Manila and to 40 percent in Mindanao. It dipped six points in the Visayas to 46 percent.
However, food poverty rose in Balance Luzon to 39 percent.
"The latest self-rated food poverty rates are lower than their 2013 averages for Metro Manila, Visayas and Mindanao. It is higher for Balance Luzon… compared to its 2013 average," the SWS said.
The SWS said that while fewer families rated themselves poor, the amount of money they needed to have in order to not consider themselves poor increased.
For Metro Manila, that amount is P15,000, while for Balance Luzon, the Visayas and Mindanao, it is P10,000. This is called the self-rated poverty threshold defined by SWS as "home expense budget that would satisfy the poorer half of the poor households" and "less than the minimum income that they need."
These poverty thresholds amounts "are the highest levels ever achieved" in those regions.
Also, similar record-highs were seen when it came to the self-rated food poverty threshold, with the monthly food budget, in order not to considered food-poor, reaching P7,000 in Metro Manila and P5,000 each in Balance Luzon, the Visayas and Mindanao. (MNS)