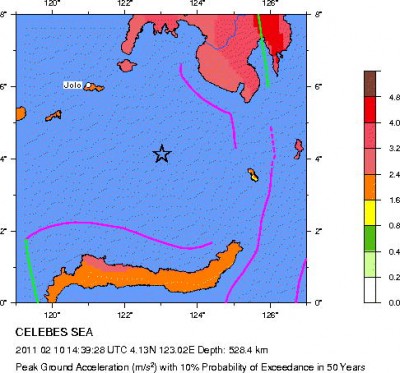 MANILA, February 10, 2011 (AFP) – A 6.5-magnitude earthquake struck under the Celebes Sea off the Philippines on Thursday, the US Geological Survey said.
The quake hit at 10:39 pm local time (1439 GMT) around 320 kilometers (200 miles) southwest of the city of General Santos on the island of Mindanao, at a depth of 528 kilometers, USGS said.
The US Pacific Tsunami Warning Center, based in Hawaii, did not immediately issue a tsunami warning following the earthquake.
The Philippines are part of the Pacific's so-called "Ring of Fire", a zone of frequent tectonic activity where earthquakes and volcanic eruptions are common.
The last major quake to cause widespread death and destruction in the Philippines was in 1990, when a 7.7-magnitude quake killed 2,400 people in the country's nort