By Christopher Lloyd Caliwan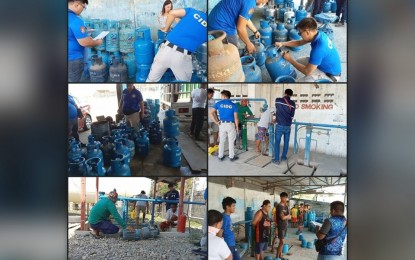 MANILA – Authorities have arrested six people illegally selling some PHP1.5 million worth of petroleum products in Enrile town, Cagayan province, the Criminal Investigation and Detection Group (CIDG) reported on Tuesday.
In a news release, CIDG chief, Brig. Gen. Romeo Caramat Jr., said the Department of Energy (DOE) has tapped the Philippine National Police to help stop such illegal activities.
Caramat said suspects Jay Divina Nicolas, 31; Gerry Dagan Ortiz, 29; Christopher Macarubbo Elacion, 23, all LPG re-fillers; and Annabelle Esteban Domingo, 51, Supervisor; Erwin Guerero Bañares, 32, driver; and Jerwin Lupani Mahinay, 31, helper; were arrested on May 13 by operatives of the CIDG based in Region 2 through a warrant dated May 12 issued by Branch 2 of the Regional Trial Court in Tuguegarao City, Cagayan.
He said CIDG operatives together with the local PNP units and representatives from Isla Petroleum Gas Corporation and Petron LPG Corporation implemented a search warrant against the owners, managers and operators of C-Gas Refilling Plant in Barangay Roma Norte, who, according to the information received by the CIDG are engaged in the sale and distribution of adulterated petroleum products.
Seized from the suspects were numerous gas cylinders, valves, two sacks of assorted fake seals, weighing scales, motors for LPG compressor and LPG pump, and a Mitsubishi Elf Truck.
Authorities were also able to confiscate an abandoned Isuzu truck containing 7 empty Petron Gasul cylinder Pol valves, 6 empty Fiesta cylinders, 11 empty Petron Gasul cylinders,12 repainted empty Solane cylinders, and 2 empty Solane cylinders.
Caramat said all confiscated pieces of evidence have a total estimated value of around PHP1.53 milion.
All arrested persons who are currently under temporary custody of the CIDG RFU2 are facing criminal complaints for violation of BP 33 as amended by PD 1865 and RA 5700.
"The CIDG recognizes the need to curb and eradicate this kind of rampant and extensive illegal activity; and with the marching orders from the Chief PNP Gen. Benjamin C. Acorda Jr. through his 5-Focused Agenda, we will be persistent and stern in pursuing and arresting lawbreakers to prevent them from endangering our consuming public," Caramat said. (PNA)