By Marita Moaje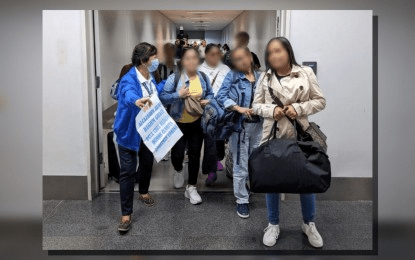 MANILA – A total of 64 overseas Filipino workers (OFWs) from Israel will be home this week, according to the Department of Migrant Workers (DMW).
The fifth batch of repatriates, composed of 22 OFWs and an infant, is expected Monday via Etihad Airways flight EY 424 at Ninoy Aquino International Airport Terminal 3.
The remains of Iloilo province native Mary Grace Prodigo-Cabrera will be part of the Monday group.
The next group of 42 will be home by Tuesday.
"Nineteen of the returning OFWs [on Monday] are caregivers while the remaining 3 are hotel workers," Cacdac said in a statement on Monday.
Cacdac said the remains of Cabrera will be accompanied by her sister and fellow caregiver, Mary June Prodigo.
Cabrera, the daughter of her 95-year-old ward, and the daughter's former husband were abducted by the terrorist Hamas group on Oct. 7.
The OFW's body was found on Oct. 19.
Cacdac, Overseas Workers Welfare Administration chief Arnell Ignacio, and other senior officials of concerned government agencies will welcome the repatriates.
To date, 119 OFWs and four infants have returned from Israel.
The first batch included 16 individuals and one infant; the second batch was composed of 18 OFWs; 25 individuals and one infant composed the third batch; while the fourth batch included 60 OFWs and two infants. (PNA)