By Christopher Lloyd Caliwan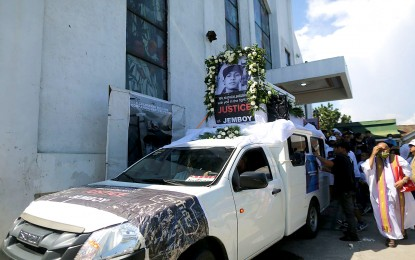 MANILA – The Philippine National Police-Internal Affairs Service (PNP-IAS) has recommended the dismissal of eight cops in connection with the death of 17-year-old Jerhode "Jemboy" Baltazar in a case of mistaken identity in Navotas City last month.
IAS Inspector General Alfegar Triambulo said they have submitted to the National Capital Region Police Office (NCRPO) the recommendation for dismissal from the service of Executive Master Sgt. Roberto Balais Jr.; Staff Sergeants Antonio Bugayong Jr., Gerry Maliban and Nikko Pines Esquillon; Cpl. Edmard Jake Blanco; and Pat. Benedict Mangada.
Team leaders Captains Mark Joseph Carpio and Luisito Dela Cruz were included in the recommendation for dismissal for serious grave neglect of duty because they did not personally supervise their team during the operation.
"Ang IAS recommendation dito sa mga sangkot sa pagkamatay ng minor na si Jemboy ay dismissal from the service. Itong anim dito ay umaamin na talagang sila ay nagpaputok ng kanilang baril at ayon din sa witness ito ay direkta kay Jemboy kaya ito ang dahilan kaya namatay ang minor dahil tinamaan siya ng bala (The IAS recommendation for those involved in the death of the minor Jemboy is dismissal from the service. These six admitted that they really fired their guns and according to the witness, were directly aimed at Jemboy so this is the reason why the minor died because he was hit by a bullet)," Triambulo said in a television interview Thursday night.
Once dismissed, their benefits would be forfeited, eligibility would be revoked and would be perpetually disqualified from holding any other government posts.
Probe failure of cops to follow operational procedure
Meanwhile, Senator Raffy Tulfo has filed a Senate resolution seeking to investigate the alleged abuse, killings, and human rights violation of the Philippine National Police (PNP) due to persistent failure to follow police operational procedures.
In filing Senate Resolution No. 767, Tulfo cited several failed operations of members of the PNP, particularly those involving Pandi, Bulacan and Rogriguez, Rizal cops, which happened just weeks after the death of Jemboy.
He noted that members of the Pandi, Bulacan PNP, who were not in uniform and wearing ski masks, entered the property of Rodeleio Vicente on August 12, claiming they were conducting a manhunt for an alias "Elmer" without any warrant of arrest or any justification.
In the other incident, John Francis Ompad was killed by Police Corporal Arnulfo Sabillo of the PNP Rodriguez, Rizal on August 20.
John Francis was hit coming out of their house after Sabillo tried to shoot John Ace, the victim's brother, who was being chased by the policeman for allegedly refusing to show his documents and driving away at an 8 "Oplan Sita" checkpoint.
"The protection of human rights is a fundamental principle enshrined in the Constitution of the Republic of the Philippines. And there is a need for the Police to strictly observe their Police Operations Procedure and to ensure strict application of the internal discipline of the PNP," the resolution read. (With a report from Leonel Abasola/PNA)