By Priam Nepomuceno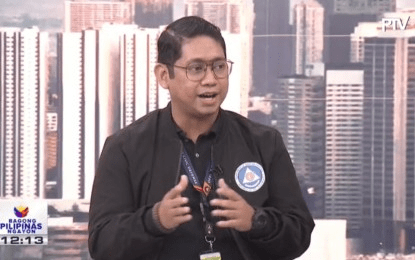 MANILA – The Office of Civil Defense (OCD) on Thursday said around 850 persons in the province of Batangas have sought medical aid or consultation for respiratory ailments caused by their exposure to volcanic smog (vog) from the Taal Volcano.
"Lahat naman sila ay tinutugunan ng ating lokal na pamahalaan sa Batangas area at ng mga kalapit na LGUs (local government units). Lahat naman ng kanilang pangangailangan, medikal man o anumang assistance na kailangan nila ay tinutugunan ng pamahalaan, lalong lalo na ng ng ating local governments (they are all being aided by the local government in the Batangas area and nearby LGUs. All of their needs, medical or any other assistance are being provided by the government, especially the local governments )," OCD deputy spokesperson Diego Agustin Mariano said during the Bagong Pilipinas Ngayon briefing over state-run PTV.
Mariano said most of the affected residents are senior citizens and children who are most vulnerable or at high risk to respiratory illnesses.
He added that most of these persons have already been cleared or placed in outpatient care after receiving medical attention.
Mariano said the Taal Volcano Island remains off-limits with the last reported sighting of "vog" on Sept. 26 in Laurel, Batangas.
He added that vog from the Taal Volcano has so far affected 19 towns in Batangas since last week.
Meanwhile, Mariano said the OCD continues to help residents affected by the unrest of the Taal Volcano, which has been under Alert Level 3 for the past four months.
He said most of the residents living near or within the volcano's permanent danger zone have been evacuated.
"When we rescue residents, we also rescue their animals. Our evacuation efforts are holistic and also covers their livelihood. We have animal evacuation centers. We have a system where they can identify the animals that they own," he added.
Mariano said the government's National El Niño Team is focusing on five areas to mitigate the effects of the phenomenon — water security, food security, energy security, health and public safety.
He said a regular inspection and maintenance of water sources, such as dams, is conducted as part of water conservation measures.
"In terms of food security, we empower the farmers. We provide assistance to them, we guide them on what crops should be planted and how to control pests," Mariano said.
Mariano said a part of energy security measures is the shift to renewable sources and lessening dependence on fossil fuels.
He said they are working with the Department of Health to ensure safe water supply to prevent outbreaks of diseases.
"In public safety, the Bureau of Fire Protection regularly holds fire safety inspections as fires are more common especially at this time where we expect droughts," he added. (PNA)