By Jason Gutierrez
MANILA, April 27, 2011 (AFP) – In a dark and hot pedestrian tunnel underneath Manila's university district, shoemaker Julius Wilfredo Gregorio sweats as he sews rubber soles to a pair of hand-crafted leather boots.
The 37-year-old is aiming to make five pairs for the day and avoid getting buried under a pile of orders from his ever-growing list of cash-strapped fans of fashion.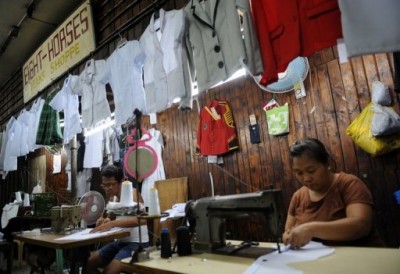 Since taking over his father's "Freddie's Leather Haus" shop in 1991, Gregorio has gained a steady stream of both foreign and local clients who buy his designs that aim to rival those sold in trendy boutiques.
"You don't have to be a rich action movie star to own top-quality boots and be fashionable," Gregorio said, his sweat dripping as the battered electric fan in the corner struggled to provide ventilation.
"I can make you shoes that will make you feel like one, all you have to add is a little attitude," he said, pointing to a picture strategically tacked on his display wall of a local action movie star wearing one of his designs.
Gregorio is one of the movers of the Philippine capital's underground fashion haven that operates semi-legally in two pedestrian tunnels on Recto boulevard, where you can find many of the city's universities.
Over the decades, their tiny stalls and cubicles have come to symbolize defiance of an industry obsessed with ultra-expensive signature labels favored by Manila's social elite.
The tunnels' strategic location has helped clothiers and expert craftsmen gain a cult following among mostly college students short on cash but high on fashion sense.
Shops here sell anything from jeans, boots and leather garments, accessories such as beads and bracelets, to school and office uniforms and athletic gear at friendly prices.
Designs patterned after popular American brands are perennial top sellers, although those seeking a personal touch can bring their own designs while most retailers offer their own cutting-edge concepts.
Price tags range from 300 to 400 pesos (six to nine dollars) for a pair of denim jeans, while cowhide boots can cost up to 4,000 pesos (93 dollars).
This season's hot tickets are colorful basketball jerseys to be worn in summer leagues organized by various athletic organizations in a country addicted to the sport.
"I often go here to get my clothes done," said Pauline Banigued, a 23-year-old communications major at one of the nearby universities, as she had her measurements taken from a tailor for a blouse.
"They are not exactly fashion runway material, but they suit my taste just the same."
The shops began operating illegally in the 1970s but city hall long ago gave up the fight to evict them, instead allowing them to thrive informally in exchange for token electricity and rent payments.
The subterranean industry has survived globalization and the influx of foreign brands sold in air-conditioned department stores and malls that are ubiquitous across the megalopolis of 12 million people.
A powerful storm in 2009 that triggered Manila's worst flooding in 40 years threatened to shut them down for good with the tunnels completely submerged, but demand for their services remained high and they soon returned.
Veteran tailor Ruben Rosal, 59, began in the tunnels making just denim jeans, but diversified over the years to meet customer demand.
"People go to us and ask us to make them blouses, skirts, even school and office uniforms," said Rosal, 59, amid the distant rumble of automobile engines overhead and as florescent lights flickered in his shop.
Rosal learned his craft from his older brother, Danny, who channeled his creative juices from photography to clothing design in the late 1970s.
They named their shop Crazy Horse Jeans to capitalize on spaghetti westerns that were the rage in Hollywood then, and the catchy label stuck.
Rosal's family now owns four shops, and the earnings from the business have paid for the education of his five children, all of whom now have university degrees.
But just as importantly, Rosal said he believed his retail career had offered something important back to the community.
"I've been a farmer and a fisherman in the province, but this is what I do best. I have made clothes for all sorts of people, and I feel happy when they come back because they are satisfied," he said.
"I always say that good, quality clothes are for everyone. Not just those who have the money to buy them."