After long preparation, a new 99 Ranch Market finally emerges in Rancho Cucamonga! Come for a sneak peak on November 10, 2010 for the store's soft opening and join us for a Grand Opening Celebration on November 12, 2010.
The City of Rancho Cucamonga is located north-east of Los Angeles, in San Bernardino county. Crowned by the majestic San Gabriel Mountains, the City's is home to a community proud of its past and excited for its future.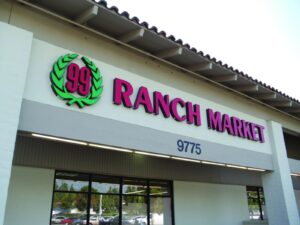 99 Ranch Market is proud to open a store with excellent quality, value and friendly services and become a member of the City's business community. Located off the 210 Freeway near Archibald Ave. and Baseline Road, 99 Ranch Market Rancho Cucamonga store has a large space of 44,300 square ft. filled with a wide variety of fresh produce, meat, seafood, and deliciously prepared foods. The 99 Ranch Rancho Store is our premiere establishment in San Bernardino County, carrying over thousands of grocery and merchandise items imported from all over Asia.
99 Ranch Market has embraced the customer-first philosophy. Our objective is to create a shopping experience where excellent and efficient customer service is a priority, selection is wide, and pricing is competitive. 99 Ranch Market is your premier grocery shopping destination and a close companion to your everyday lives. We thrive to continue Mr. Roger Chen's vision of honesty and integrity to serve the population of the greater San Bernardino County.
99 Ranch Market provides a comfortable shopping environment complete with spacious aisles and novel interior design.  One of the highlights is the Asian style deli, which supplies convenient selection of Chinese food, Japanese sushi, and dim sum.  Customers can rely on every department to provide high quality foods every day.  The seafood department offers fresh selections daily; the meat department provides premium meat; and the Desir bakery provides various types of oven-fresh breads, cakes and desserts. In addition to the supermarket area, 99 Ranch Market plaza also includes restaurants and other retail outlets. Currently, we have a Manila Sunrise Restaurant, several other Filipino eateries, and gift shops.  Indeed, customers will find everything they need and can rely on 99 Ranch Market as their one-stop shopping destination.
99 Ranch Market Rancho Cucamonga store opens its doors with amazing prizes for our Grand Opening celebration. 99 Ranch Market offers huge savings and free gifts (base on availability) to our customers as a means to give back to our community! On November 12, 2010, the first 500 customers with a purchase of at least $20.00 will receive a free 99 Ranch Market reusable bag (a goodie bag filled with promotional items).  During our grand opening weekend (11/12/10- 11/14/10): receive a free 99 Jasmine Rice (25LB) when you spend $120 or more; receive a free 99 Formosa Rose Rice (20LB) when you spend $80 or more; receive a free Alps Cheesecake when you spend $50 or more; receive a free dozen eggs when you spend $20 or more. One free item per customer per receipt per day. Not valid with any other coupon or promotional offers. Limited time offer. Limited quality, while supplies last. Restrictions may apply, please see store for more details.
99 Ranch Market Rancho Cucamonga business hours are: Monday through Sunday from 9 AM to 9 PM. Address: 9775 Baseline Rd, Rancho Cucamonga, CA 91730Â  It is located off the 210 Freeway. Archibald Ave. Head south with cross street between Archibald Ave. and Baseline Rd. Telephone: 909-942-9999. Contact us at our Customer Service hotline 1-800-600-TAWA(8292), or online at www.99ranch.com for any questions or concerns.