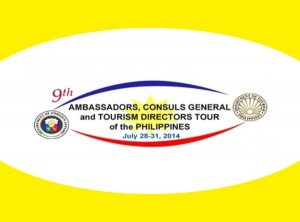 LOS ANGELES – Clocks are ticking; days are passing by so amazingly quickly as departure nears for the more than 250 participants of the 9th Ambassadors, Consuls General and Tourism Directors Tour to the Philippines.
Preparations are at a frenzy not only at all Philippine Consular Posts across the United States but also in Manila as the team from the Tourism Promotions Board shifts to high gear to make this year's ACGTDT another exciting and memorable experience for everyone.
A tour of Malacanang Museum, an audience and a photo session with President Benigno Aquino III, and lunch at the historic Heroes Hall of the Palace will highlight the four-day tour.
Activities awaiting this year's ACGTDT participants include a welcome dinner to be hosted by the Tourism Promotions Board, running tour of Manila and Makati area, visit to the centuries old University of Santo Tomas, Bangko Sentral ng Pilipinas and Ayala Museum, a full day out of town tour with a Grand Barrio Fiesta lunch and cultural presentation at the famed Hamilo Coast, Pico de Loro in Nasugbu, Batangas, a historic wreath-laying ceremony at Rizal Park, and a farewell dinner to be hosted by Western Union.
However, the Basic Tour is just the start of more exciting tours that are available for the participants to choose from.  Post tours to other popular destinations in the countryside are especially prepared for the interested participants that they may fully explore and enjoy the many beautiful and exotic places in the country.
From July 31 to August 2, ACGTDT participants are offered optional tours to any of the following:  Banaue/Sagada, Boracay, Camarines Sur, Cagayan de Oro, Cebu/Bohol, Iloilo/Bacolod, Laoag/Vigan, and Puerto Princesa, Palawan.
Since the ACGTDT was launched first launched in 2005, it has been a consistent success and has attracted thousands of participants from various cities in the United States.
This annual event is a joint project of all Philippines Foreign Service Posts in the United States, namely: Agana, Chicago, Honolulu, Los Angeles, New York, San Francisco and Washington D.C, in cooperation with the Philippine Department of Tourism and the Tourism Promotions Board.
Official ground handler is Rajah Tours Philippines with Western Union as a major sponsor.
For Filipino-Americans who have not been to the country in a long time, being part of the ACGTDT is the best option to revisit the homeland and experience the many exciting and amazing changes in the Philippines and discover the beauty of the country's top tourist destinations  — like Boracay, Palawan, and Banaue—that have been making headlines across the world and attracting millions of foreign tourists.
For many, however, the many sights, sounds, thrills and adventures that await not only in Manila but also in the countryside are magnets that draw them to have a memorable, thrilling and once-in-a-lifetime FUN experience in Philippines! (Manny V. Ilagan)