By David Casuco/BNS
Wilfredo Pring is a rabid fan of Manny Pacquiao. This forty-something nurse aide from Eagle Rock displays a couple of large Pacman posters in his garage, has wagered for the P4P champ in each of his fights; and he boasts, "that's my way to keep my savings account growing."
This time, though, Mr. Pring is singing Journey's "Separate Ways" because he has opted to wager on the "hand-wrap cheat" Antonio Margarito. Told that the Vegas betting odd is +350 for the controversial Mexican boxer, Pring said, "That means I will have bigger take."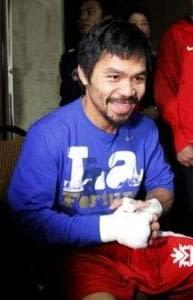 Told that sports pundits don't give the Tijuana Tornado a chance against the Pacman, Pring said, "That is their opinion. Haven't you heard about colossal upset? … That is what we will have on Nov. 13."
Pring considers himself a smart gambler, so every time he puts a wager on something, his friends consider it a well-crafted move.  So, why did Pring pick Margarito over the Hall of Fame-bound Pacquiao?
Distractions, distractions, distractions
"A boxer that is not focused is bound to fail, his natural talents notwithstanding," said Pring. He said the first phase of Pacquiao's training was a disaster. On two occasions, the Pacman skipped training to attend to some pressing congressional concerns in Manila, not to mention the media interviews and unwanted basketball pickup games.
Freddie Roach, who has polished the Pacman's raw talent to sheer greatness, himself admitted that Pacquiao's training for this particular fight was fraught with problems. Even when the training shifted to the Wild Card Gym in Hollywood, the distractions just didn't go away. The quick-smiling Saranggani congressman still had to attend to needless social functions – a candidate endorsement sortie in Las Vegas, a goodwill basketball game in San Diego, and a late night TV appearance gig in L.A.  At his condo in Beverly Hills, the Pacman had to deal with an endless stream of people – from the political lobbyists to the rabid boxing fans – think the boxing champion congressman owes a visit from them.
And Margarito, what has he got? A focused training with a game plan to pull off a clean boxing upset that could spell redemption from the stigma of the illegal hand wrap allegations.
Height and reach advantage
The tale of the tape shows Margarito as the bigger and taller fighter. The Mexican stands at 5-11; the Pinoy hero only five-foot-six. Reach: It is 73-67 for Margarito. And then, consider the "little elses" that go with height advantage. Sure, the vaunted speed and power of the Pacman was a big problem for Oscar dela Hoya and all the bigger fighters he faced inside the ring. However, in Margarito we have a 32-year old razor-sharp fighter who is confident and ready to take anything the Pacman has to offer.
The WBC Super Welterweight title is at stake in this fight, set at the state-of-the-art Dallas Cowboys Stadium this weekend. And while Margarito has his eyes on the prize, the Pacman was a "little cavalier" about it; probably because he knows that he has galvanized his boxing legacy. It is obvious that Pacquiao has shifted his focus to politics based on what he told CBS reporter Bob Simon: "I have achieved what I need to achieve in boxing. What I want to achieve more is in public service. I want to be champion there (also)."
Training distractions, appearance of sluggishness, and the perceived mismatch in the overall tale of the tape; could these be the chinks in Pacquiao's armor? That we will find out on Saturday, Nov. 13th on PPV TV.