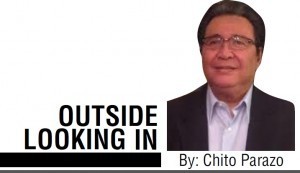 The expected arrival next week of Pope Francis in the Philippines, a predominantly Catholic country, will bring both joy and hope to millions of Filipinos who have experienced so much calamities last year.
After all the powerful typhoons that have devastated the Mindanao and Visayas regions last year, Pope Francis' visit will provide a flicker of hope for the folks, especially those who are still in need of help from the Philippine government, in particular those still living in bunkhouses.
The papal visit is expected to draw millions to see the Pope in the flesh. The Philippine population, which is 86 percent catholic, traces its catholic roots to the more than 300 years of colonization under the Spanish rule.
Philippine government is expected to spend millions of pesos for the duration of the Pope's visit in the country. The amount is more than enough to feed the hungry mouths of typhoon victims still relying on government relief foods, albeit some rotten ones in the unattended pile.
The theme of the Pope's visit is "mercy" and "compassion." I hope these words will get inside the hollow head of President Noynoy. Instead of being vindictive to critics, he should show mercy and compassion to his constituents affected by calamities.
Pope Francis is scheduled to visit typhoon victims in Palo, Leyte. He is expected to assure families devastated by super typhoon "Yolanda" of God's love for them.
I wonder if President Noynoy will join the Pope in the Leyte trip. He will be shocked to find out there are still lots of families living in tents in various areas in Leyte, which is contrary to what DWSD Secretary Dinky Soliman has been telling everybody. No wonder, former Senator Ping Lacson quit his post as head of the Office of Presidential Assistance of Rehabilitation Recovery (OPARR) because of his differences with other government  agencies involved in the rehab projects. Ping even exposed the construction of overpriced and substandard bunkhouses for typhoon victims, which DPWH Secretary Rogelio Singson denied. Although there was an investigation that looked into that matter, nothing came out of it and no subsequent charges were filed against individuals involved in the construction the supposed overpriced and substandard bunkhouses, some of which suffered heavy damage after a new typhoon struck the same area to the chagrin of many.
While the Pope is in the country, there will be "peace and harmony" among feuding politicians. I also expect Senators Antonio Trillanes, Alan Peter  Cayetano and Koko Pimentel  to suspend their relentless  investigation on the alleged ill-gotten wealth of Vice President Jojo Binay and his family.
The latest corruption issue against Binay is about the government's Pag-ibig Fund. The Senate is expected to resume its investigation regarding Binay's alleged ill gotten wealth by next month.
I don't know how long can Binay endure this  attack on his integrity. It is about time that he should face his accusers head on. If he thinks this will eventually go away and fade, he is wrong. The corruption issue against him and his family will be more intense once the campaign period starts for the 2016 nation election.
So far, Binay is still leading among all probable presidential candidates for 2016. His closest presidential rival, if ever, is neophyte Senator Grace Poe. Mar Roxas is still lagging far behind but has improved his rating