By Jenny Harper
When it comes to entertaining, especially during the holidays, I love to finish the party off with a beautiful dessert. And if it's as easy as it is pretty, it just makes my holiday even merrier.
This Peppermint Snow Pie is just such a dessert – gorgeous to look at, scrumptious to eat, and very easy to make. And I have a few tips to make it even easier: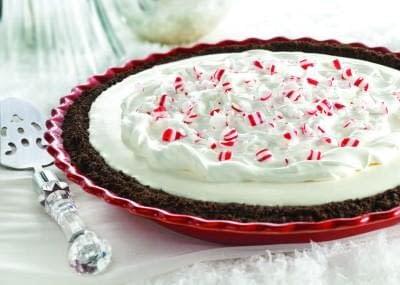 * Just the right crust. I like making a fresh graham cracker crust – and it's a snap, too. Prepare your chocolate graham cracker crumbs by either whizzing them in the food processor or putting broken graham crackers in a resealabe bag and crushing them with a rolling pin. To help you press the crumb mixture evenly into the pie plate, use a flat-bottomed measuring cup.
* Getting gelatin right. Putting the gelatin in a small amount of water to soften is called "blooming." It's best to use the bloomed gelatin right away, before it starts to set into a solid. If it does start to set, put the bowl in a small saucepan filled with an inch or so of water. Warm it over medium-high heat until it softens again.
* Pretty peppermint pieces. Put your peppermint candies into a resealable bag and break them up with a rolling pin or the flat side of a meat mallet. You can crush extra candies and keep them in the freezer for the next time you make this show-stopping pie.
For more fantastic holiday dessert recipes, go to www.VeryBestBaking.com.
Peppermint Snow Pie
Makes 8 servings
Ingredients:
CRUST:
1 1/4 cups chocolate graham cracker crumbs (8 crackers)
2 tablespoons granulated sugar
1/3 cup butter, melted
FILLING:
1 envelope (7 grams) unflavored gelatin
2 tablespoons boiling water
1 can (12 fluid ounces) Nestle Carnation Evaporated Milk
1 cup (6 ounces) Nestle Toll House Premier White Morsels
1/2 teaspoon peppermint extract
1 container (8 ounces) frozen whipped topping, thawed, divided
1/2 cup coarsely chopped hard peppermint candies (about 24), divided
Directions:
PREHEAT oven to 375∞ F. Grease 9-inch deep-dish pie plate.
FOR CRUST:
COMBINE crumbs and sugar in pie plate. Stir in butter. Press crumb mixture onto bottom and up sides of prepared pie plate.
BAKE for 8 minutes. Cool completely on wire rack.
FOR FILLING:
PLACE gelatin in small bowl; stir in water. Let soften for 1 minute.
HEAT evaporated milk and softened gelatin in small saucepan over medium heat; stirring constantly with whisk until mixture is dissolved and hot. Remove from heat; stir in morsels and peppermint extract until completely melted and smooth. Pour into medium bowl. Refrigerate uncovered for 30 minutes, stirring occasionally, until cool to touch. Gently whisk in 2 cups whipped topping. Sprinkle 1/4 cup candies over bottom of crust. Pour filling over pie crust.
REFRIGERATE for 2 hours or until set. Spread remaining whipped topping over center of filling. Sprinkle with remaining 1/4 cup candies. Serve immediately.
Nutrition Information per serving: 470 calories; 210 calories from fat; 23g total fat; 18g saturated fat; 35mg cholesterol; 250mg sodium; 56g carbohydrate; 1g fiber; 38g sugars; 7g protein; 25% Calcium