Audie Vergara
Executive Director, Apl.de.Ap Foundation International (APLFI)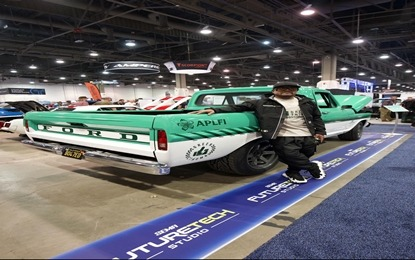 (Los Angeles, CA) – The Apl.de.Ap Foundation International (APLFI) gears up to supercharge America's green future! With excitement, APLFI announces the Electric Mechanic Scholarship.
This initiative provides financial aid and strategically bridges the pressing skills gap in the U.S. electric vehicle (EV) landscape, a sector ready for dynamic expansion.
U.S. EV Market Landscape:
PricewaterhouseCoopers forecasts a tenfold boost in the U.S. EV charging infrastructure by 2030, with a potential of 35 million charging stations supporting 27 million electric vehicles. As 286 million gas-powered vehicles still dominate the roads, the Electric Vehicle Service Equipment (EVSE) market could reach a staggering $100 billion valuation by 2040. APLFI's Electric Mechanic Scholarship emerges as a cornerstone in this electric evolution, addressing the transformative shift signaled by the surge in zero-emission vehicles. Apl.de.Ap, APLFI's Grammy-winning founder, emphasizes, "The rise in EVs reshapes our job landscape. We must
place our communities at the forefront of this change."
The Global EV Landscape:
EV adoption represents more than a fleeting trend; it stands as a robust cornerstone in the worldwide movement against climate change, echoing its influence across diverse sectors like energy, real estate, and urban design. APLFI's scholarship doesn't merely offer support; it actively propels our commitment to a
cleaner, more sustainable future.
APLFI's Legacy: Navigating the Future
Originating from vibrant Southern California, APLFI champions the transformative contributions of Asian Americans to automotive culture. In the vibrant tapestry of the modified vehicles like Honda Civics and Toyota Supras emerged as shining beacons, heralding a renaissance in the automotive realm. This global awakening not only captivated an entire generation of car aficionados but also set the stage for the world's premier automakers to unleash unparalleled feats of engineering and artistry. With a steadfast commitment to innovation, APLFI sets its sights on steering the future of automotive evolution.
Scholarship Overview: Powering the Future of EV Skills
With more than 664,000 automotive professionals in the U.S. as of May 2022, APLFI's Electric Mechanic Scholarship actively invites industry veterans and enthusiastic newcomers alike. Dive into an immersive training experience, featuring state-of-the-art EV technologies such as battery management, gas-powered to EV conversions, electronic systems, and EV diagnostics, all bolstered by this scholarship.
Strategic Collaborations: Crafting a Brighter Tomorrow
APLFI actively partners with top educational institutions, government agencies, and automotive trailblazers. These strategic alliances promise to amplify the program's impact, furnishing selected candidates with invaluable resources, mentorships, and an expansive network. Stay Updated with APLFI:
For the latest news, application processes, and deadlines, keep a close watch on APLFI's official channels. For a deeper insight into the Electric Mechanic Scholarship, reach out to info@aplfi.org.
About Apl.de.Ap Foundation International:
Established in 2011 by the renowned Apl.de.Ap of the Black Eyed Peas, APLFI stands as a 501(c)(3) beacon for youth empowerment. With a foundation in education, healthcare, and disaster relief, the organization crafts opportunities through impactful partnerships with both local entities and international NGOs. Apl.de.ap's personal journey and visual challenges inspire a holistic approach with healthcare at its core. By blending Apl.de.ap's rich Filipino heritage with
actionable strategies, APLFI uniquely transforms personal experiences into broad-reaching, positive impacts.
MEDIA CONTACT:
Audie Vergara
Executive Director, Apl.de.Ap Foundation International (APLFI)
(323) 831-4099
audie@aplfi.org
www.aplfi.org