By Christopher Lloyd Caliwan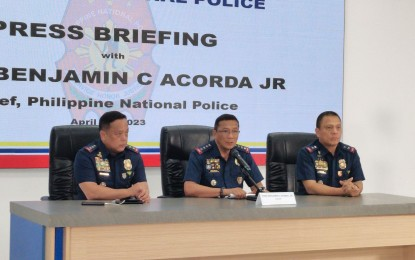 MANILA – PNP chief Gen. Benjamin Acorda Jr. on Tuesday said he believes that there are more good cops than erring ones as proven by statistics based on his tenure at the PNP counterintelligence service division.
"I was assigned as the counter-intelligence chief, kokonti lang yang mga nakalista diyan (there are only a few included on the list), and I do believe based on the statistics na nakita, malayong-malayo marami ang mas mabubuting pulis (there are far more better good policemen than bad), and I want the people to know that being the chief of the counter-intelligence. Kokonti lang sila," Acorda told reporters in his first media briefing after his first command conference held at Camp Crame on Tuesday.
"I also want to take this opportunity — napapansin ko sa counter intelligence yung kasabihan na wala na gagawin ang mga mabubuting tao (the saying that good people have nothing to do) for evil to succeed. Baliktarin natin (Let's turn it around). Let us do good things to defeat evil, yun ang gusto ko ma-encourage sa ating kapulisan (that's what I want to encourage in our police force)," he added.
The PNP is currently facing a controversy regarding the alleged involvement of policemen in illegal drug activities.
Acorda said he has called for "Serbisyong Nagkakaisa," a unified service anchored on the administration's call for unity and nation-building.
He explained that "Serbisyong Nagkakaisa" means the police force are united in really promoting the respect that will be earned in the community and those who are wearing police uniforms should be respected as he urged all commanders to treat each and every police personnel as a family member.
"Yun ang gusto kong i-encourage sa kapulisan. Kumbaga, kung [ang] nanay or tatay [gustong paluin ang anak], huwag naman na ipahiya mo sa buong bayan. Kung kailangan ipakulong, ipakulong natin whether he is a family member (That's what I want to encourage in the police. So, if [the] mother or father [wants to punish the child], don't embarrass the whole town. If he needs to be jailed, let's jail him whether he is a family member)," Acorda said.
Serbisyong Nagkakaisa with the other government agencies, according to Acorda, is expected to promote inter-agency coordination and to include the community and the media.
"Dapat iisa tayo, iisa lang ang bansa natin, mahalin natin, magtulungan tayo (We must be one, we have only one country, let's love it, let's work together)," he added.
Acorda also vowed a relentless campaign against criminality and illegal drugs.
He tasked the deputy chief for administration Lt. Gen. Rhodel Sermonia, deputy chief for operations Maj. Gen. Jonnel Estomo, regional directors as well the National Support Units to make sure that the police will be properly supported on the ground during operations against criminal elements.
In connection with the reshuffle or movement of top-level officers, Acorda said that everything will be done based on the policies and guidelines, merit, ability, capability and moral ascendancy of the police officers as set by Senior Officers Placement and Promotions Board.
But when it comes to revamps, "wala pa tayong iniisip na revamp (we are not thinking of a revamp yet)," Acorda said. (PNA)