By Rod Mijares
The boxing event in Las Vegas at the MGM Grand Hotel & Casino billed the "Action Heroes" on April 9, 2011 brought an action-packed entertainment of boxing that began from the first bout until the main event featuring the come-backing former world champion Mexican Eric Morales and the fearsome Argentine Marcos Rene Maidana for the vacant WBA interim super lightweight title.
"Every single fight was a beautiful fight. Why not we do a rematch of the whole fight?," the happy, satisfied and jubilant Oscar De La Hoya said at the post-fight press conference.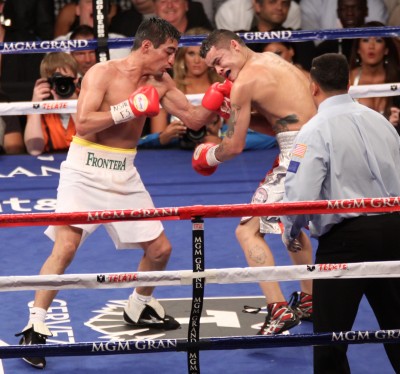 Maidana, who was more aggressive and who threw more punches, won over Morales by a majority decision. Judges Adalaide Byrd and Jerry Roth both scored it 116-112 while judge Dick Houck scored it 114-114.
However, the crowd, who were mostly Mexicans, was surprised with the decision, and so was Morales who thought he won the fight. Although Morales only threw a total of 528 punches with 51 jabs and 106 power punches connected, as compared to Maidana's 985 total punches with 20 jabs and 175 power punches connected, the would-be hall-of-famer brought energy to the crowd with his precise counter-punching and left-right combinations. If not for the punch that almost closed his right eye in the first round and the cut he suffered in the 4th round, the result could have been different.
Despite that promoter De La Hoya was ecstatic. He said, "I told you so. Nobody should count Eric Morales out. He still has that courage, that passion and determination in him." I think tonight really demonstrated what boxing is all about…the action, the entertainment and the passion that Marcos Maidana and Eric Morales – two Action Heroes – showed tonight.
"You haven't seen the best of Robert Guerrero yet," Guerrero said after he won over Australian Michael Katsidis in a unanimous decision to capture the vacant WBA & WBO interim lightweight titles. Guerrero successfully defended himself well with jabs and combinations against the onslaught of Katsidis, who was like a warrior looking and waiting for the right time to unleash his own combinations.
Japanese Nobuhiro Ishida brought the arena down when he stunned the crowd in a blink of an eye win against previously unbeaten American James Kirkland, by knocking him out in 1:52 of the first round. Kirkland actually went down three times on his back with powerful and successive combinations from Ishida.
"I thought I fought a smart fight. I am sick and tired of losing," Pauli Malignaggi said referring to his last six fights where he alternated with winning and losing. Malignaggi won over Jose Miguel Cotto in their 10-round welterweight bout, which was the first fight of the pay-per-view telecast. Two judges scored it 99-91 and the third, a 97-93 for a unanimous decision.
In the other fight, Danny Garcia of Philadelphia won over former world champion Nate Campbell in their super lightweight 10-round bout.