By Perla Lena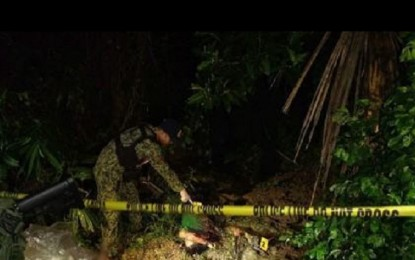 ILOILO CITY – A political instructor and finance officer of the Southern Front Committee of the Komiteng Rehiyon Panay of the Communist Party of the Philippines-New People's Army (CPP-NPA) was killed after sustaining injuries in a three-minute firefight with government troops in Barangay Cananaman in Leon, Iloilo past noon of Sunday.
"As a result of the firefight a female member was killed in action later identified as Rebecca Aliparo alias Mara. She has gunshot wounds on her left arm, right face, and right chest," said Leon Municipal Police Station officer-in-charge Lt. Danilo L. Noca, in an interview on Monday.
Members of the Philippine Army's 61st Infantry Battalion (61IB) were unhurt while the two companions of Aliparo escaped.
The body of 56-year-old Aliparo, a resident of Barangay Bagacay in the municipality of Tigbauan, was claimed by her siblings on Monday.
Noca said according to her siblings, Aliparo started as a student activist when she was around 18 to 19 years old.
She did not graduate from college because she already joined the movement. The last time they saw her was in 1994, during the wake of their father.
"She was convinced by her family to return to the government but because of her principle, they were not able to persuade her," Noca said, adding that after 38 years in the movement, she returned home already dead.
Brig. Gen. Michael Samson, 301st Infantry Brigade commander, said the incident was a major blow to the Southern Front.
"A political instructor is an important position because they are the ones indoctrinating on policies and other ideologies and policies by the central committee. So very important," he said in a media interview.
Samson said they have been receiving information from the community regarding NPA presence, a sign that they are no longer welcome.
"Their presence means the place is not peaceful, investors and projects got affected. It is our legitimate mandate to pursue them and pressure them not to fight the government, usually, the result is death," he added.
The authorities recovered from the scene of the incident one .45-caliber pistol, assorted medicines, two civilian backpacks and personal belongings.
Aliparo was the third NPA slain in an encounter with government troops in Leon; the two others died in an encounter at Sitio Pagas, Barangay Ayabang in July. (PNA)