By Priam Nepomuceno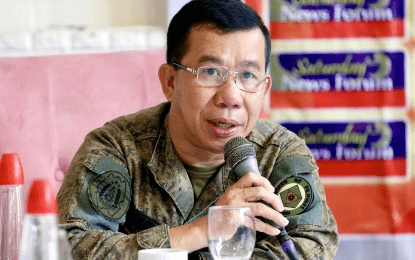 MANILA – The Philippines will continue with its resupply mission to its detachment aboard the BRP Sierra Madre (LS-57) which stands guard over the Ayungin Shoal in the West Philippine Sea (WPS) despite the increasing number of Chinese vessels in these waters.
"Simple lang naman po ang ating ginagawa at ito po ay isang legitimate operation na hindi pwedeng pigilan nino man. Kasi po importante sa atin na maipakita sa buong mundo na tayo ay nagassert ng ating jurisdiction at sovereign rights sa Ayungin Shoal (What we are doing is simple and this is a legitimate operation that cannot be stopped or prevented by anyone. It is important that we show the whole world that we are asserting our jurisdiction and sovereign rights in Ayungin Shoal)," Armed Forces of the Philippines (AFP) spokesperson Col. Medel Aguilar said in Monday's Bagong Pilipinas Ngayon briefing, when asked on what the government plans to do should the number of Chinese ships increase further in succeeding rotation and resupply missions.
He added that it is the country's responsibility to supply military personnel aboard the BRP Sierra Madre with what they need while on duty.
"And therefore we cannot be prevented or no one can stop us from doing our RORE (rotation and resupply) mission," Aguilar added.
Earlier reports coming from the Philippine Coast Guard said there were around 38 assorted Chinese vessels spotted in the vicinity of Ayungin Shoal during the Nov. 10 resupply mission.
"They want to stop us but the more that they do that the more that their credibility is tainted or the more that they are discredited in the eyes of the international community," the AFP spokesperson noted.
Aguilar also maintained that Manila's resupply efforts are legal and peaceful and that the AFP will continue to supply information showing China's hostile moves in these areas for the filing of diplomatic protests.
He said this seeks to remind China that Ayungin Shoal is within the Philippines' exclusive economic zone and their presence is "illegal and what they are doing there are actually dangerous and irresponsible".
Also, the AFP spokesperson said the M/L Kalayaan, one of the two Philippine supply boats tapped for the Nov. 10 mission, was not hit by the water cannon deployed by the China Coast Guard (CCG).
"Yes, it was not hit but the mere firing of that water cannon is an irresponsible act committed by the CCG, that is not acceptable, whether it hit our vessel or not, still it is not proper, it is irresponsible act by China Coast Guard," he added. (PNA)