By Priam Nepomuceno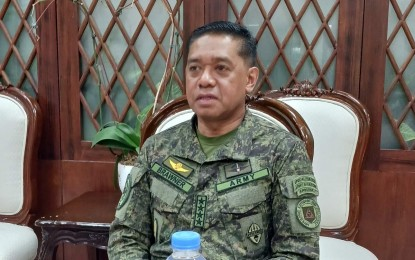 MANILA – Armed Forces of the Philippines (AFP) chief Gen. Romeo Brawner Jr. on Wednesday said they have yet to detect signs that China is building any structures in Scarborough Shoal (Bajo de Masinloc) off the province of Zambales.
"Well sa ngayon, wala naman pong mga (Chinese) structures dun sa Scarborough Shoal (as of now, there are no structures in Scarborough Shoal)," Brawner said in an interview with Radyo Pilipinas.
Last month, the China Coast Guard (CCG) placed a 300-meter floating barrier near the entrance of Scarborough Shoal which was then cut by the Philippine Coast Guard upon orders of President Ferdinand R. Marcos Jr.
Brawner said Scarborough Shoal is part of Philippine territory, contrary to claims made by China.
"We are insisting na hindi sa kanila yan at nasa exclusive economic zone (EEZ) natin yang area na yan Bajo de Masinloc o yung Scarborough Shoal (We are insisting that the area is not theirs and Bajo De Masinloc or Scarborough Shoal, it is located in our EEZ," he added.
Brawner said the AFP has the right to patrol in the country's EEZ as part of its mandate.
Earlier, the AFP chief dismissed claims that a Philippine Navy (PN) ship was driven off by the CCG while doing a maritime patrol near the vicinity of Scarborough Shoal.
While admitting that the PN vessel was challenged by the CCG, Brawner noted that the Filipino naval vessel was not chased and continued with its mission.
Naval ships in 'Exercise Samasama' hold drills
The PN said Wednesday the missile frigate BRP Antonio Luna (FF-151) and US Navy guided-missile destroyer, USS Dewey (DDG-105) held a gunnery exercise (GUNNEX) as part of the ongoing "Exercise Samasama" on Tuesday.
This drill is part of the seagoing phase of the maneuvers, it added.
Target acquisition and engagement were practiced during this exercise, the PN said.
"While, BRP Lolinato To-Ong (PG-902) ensured that the GUNNEX area was clear from other vessels and safe for firing naval guns. Ship's crew of both navies occupied their respective stations in preparation for engaging the inflatable target 'killer tomato' deployed by DDG-105," it said in a statement.
The PN said BRP Antonio Luna fired its Aselsan SMASH 30mm secondary gun and .50 caliber machine guns while the USS Dewey used its 25mm Mk38 autocannon and .50 caliber machine guns. (PNA)