By Priam Nepomuceno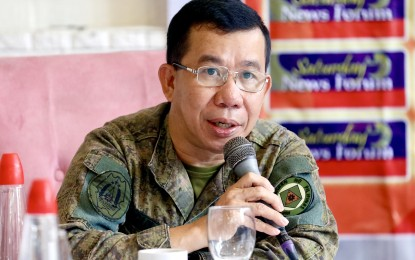 MANILA – The Armed Forces of the Philippines (AFP) on Wednesday described as brazen the abduction claims made by the two environmentalists in a press briefing of the National Task Force to End Local Communist Armed Conflict (NTF-ELCAC) in Bulacan.
"The act is brazen with a plot that is new, quite deep (with the interplay of red and white area forces) and dangerous (to them if they fail)," AFP spokesperson Col. Medel Aguilar said in a message to reporters.
Aguilar did not elaborate further but said he would talk about the issue "at the proper time."
Environmentalists Jhed Reiyana Tamano and Jonila Castro suddenly claimed during Tuesday morning's press conference organized by the NTF-ELCAC in Plaridel town that they were abducted and threatened by soldiers, contrary to reports that they voluntarily surrendered.
NTF-ELCAC Secretariat director Alex Umpar, meanwhile, stood firm on the merits of the police investigation surrounding the voluntary surrender of the duo who were allegedly organizers of communist front organizations.
"We will stand by kung ano ang ni-report ng (with the report made by the) AFP," Umpar said.
The NTF-ELCAC leadership earlier bewailed the two environmentalists' "sudden change of heart" but vowed that it shall remain committed to fulfilling its mandate.
"The NTF-ELCAC stands by the position of the 70th Infantry Battalion under Lt.Col. Ronnel Dela Cruz on the circumstances surrounding the surrender of Tamano and Castro, backed up by the duo's respective affidavits narrating their whereabouts from the time they decided to leave the underground movement until their safe arrival at the battalion headquarters with the help of a friend," it added.
Perjury raps seen
Meanwhile, the National Security Council (NSC) said the two activists may face perjury charges for misleading the public.
NSC Assistant Director General Jonathan Malaya, in an interview with ABS-CBN News Channel, said the government accepted Tamano and Castro "in good faith" when they went to them to surrender.
"If it is proven that they executed this falsely, knowing that what they were saying is correct they can be open to perjury charges," Malaya said.
He added that the NTF-ELCAC was hoodwinked, along with the Philippine Army, Public Attorney's Office(PAO), and the local government unit in Bulacan that hosted the press conference.
"We accepted them with all good faith. In fact the Commission on Human Rights talked to them, they executed affidavits befor the mayor of Angat, the PAO, and they said that they were ready to join the presscon," he said.
Malaya said that when they held their first press conference on the matter last week, the two did not join because they supposedly were not yet ready.
He said they "changed their mind" last weekend and said they were ready to face the public.
Malaya also said they will continue to "expose" all the information on the two, whom he said are "community organizers" of the Communist Party of the Philippines. (PNA)