By Priam Nepomuceno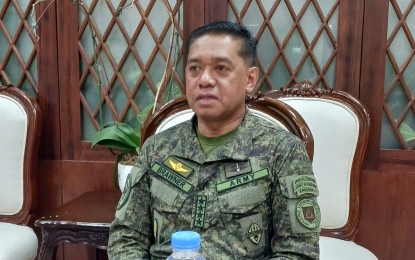 MANILA – The Armed Forces of the Philippines (AFP) modernization program is now being reconfigured or shifted to provide the military with the capabilities needed to protect the country's exclusive economic zone (EEZ) or 200 nautical miles from its coast.
This shift is now undergoing in Horizon 3 of the AFP Modernization Program, military chief Gen. Romeo Brawner Jr. confirmed in a recent media interview.
Brawner said this reconfiguration, while still defensive in nature, was recommended by Department of National Defense (DND) Secretary Gilberto Teodoro Jr. shortly after his appointment last June replacing then Defense Senior Undersecretary Carlito Galvez Jr. who was reappointed as Presidential Peace Adviser.
"Nung dumating si SND (Secretary of National Defense) nakita nya yung Horizon 3 so sabi nya we should revisit it and 'rehorizon' yun yung term nya 'rehorizon' (When the SND came, he saw Horizon 3, so told us we should revisit it and 'rehorizon' it, that was his term, 'rehorizon')," Brawner said.
"So tiningnan natin, the original Horizon 3 was made prior to the events that happened yung water cannoning, laser pointing mga ganun ganun. Parang ang focus nya was territorial defense in depth yun yung luma na strategy (So we looked at it, the original Horizon 3 was made prior to the events that happened, the water cannoning, laser pointing, and the like. His focus was like territorial defense in depth, that's the old strategy)," he added.
Brawner was referring to the incidents where the Chinese tried to interfere with Philippine resupply efforts to its detachment aboard the BRP Sierra Madre which is keeping watch over Ayungin Shoal in the West Philippine Sea (WPS).
He said the original Horizon 3 was made with "territorial defense in depth" in mind, meaning the military has to wait for threats to come near before engaging them and consists of "first, second, third, and fourth line of defense".
"But this time because of what's happening, proactive tayo. So sabi ni SND says we need to be proactive, and we project outwards our defenses," Brawner said.
This means, he said, defensive efforts will now focus on defending the Philippines' EEZ and not only the country's baselines or coasts.
Brawner said this refocus is similar to the United States' defense strategy of "forward defense" where threats are contained or repulsed as far away as possible.
In this shift, he said the AFP is aiming to protect Philippine-held islands in the WPS which he identified as Pag-asa, Panata, Parola, Likas, Patag and Lawak.
Aside from these islands, the country is also occupying four other features in the WPS– Kota Island, Likas Island, Rizal Reef, and Ayungin Shoal.
Brawner said the AFP needs equipment capable of projecting defenses forward to carry out this mission.
"So ano kailangan mo dyan e di mga multirole-fighters (MRFs), mga barko, submarine(s) mga ganun ang kailangan mo para makaproject ka, tapos hindi lamang west, titingnan rin natin yung north and east lalo yung east kasi kailangang depensahin din natin yung Philippine Rise (So what equipment do we need for this mission, of course, we need multi-role fighters, more naval ships, submarines, things like that, you need to project your defenses. And we will be doing this not only in the West but also in the North and East, we (also) need to defend the Philippine Rise)," he said.
Under Horizon 3, which is now being tweaked, Brawner said there are plans to increase the numbers of MRFs from the initial 12 units planned earlier.
The AFP chief did not specify on how many MRFs will be added as the Air Force is still finalizing on the planned numbers.
Horizon 3 was initially scheduled from 2023 to 2028 while Horizon 2 was from 2018 to 2022 and Horizon 1 from 2013 to 2017. But he stressed that these are "more potent" and have "more numbers." (PNA)