By Priam Nepomuceno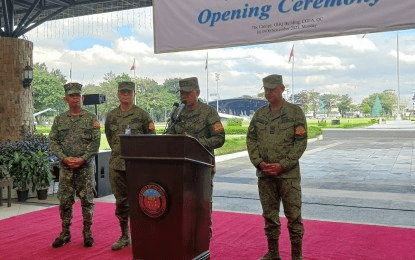 MANILA – Armed Forces of the Philippines (AFP) chief Gen. Romeo Brawner Jr. on Monday said the military will beef up its capabilities to deal with "emerging threats" as the military formally opened its joint exercises among its major services.
"In this exercise, we will fortify our territorial defense posture, sharpen our external security capabilities and respond to emerging threats with unparalleled precision," Brawner said during the opening rites of the seventh AFP Joint Exercises 'Dagat-Langit-Lupa" (AJEX DAGIT-PA) at the AFP headquarters at Camp Aguinaldo, Quezon City.
More than 1,500 active and reserve personnel from the Army, Air Force, Navy, Marines, Special Operations Command and Cyber Group will take part in the AJEX DAPIT-PA staff, command post, cyber defense, and field training exercises in the Northern Luzon Command area which runs from Nov. 6 until Nov. 17.
"I always tell our AFP, the members of the AFP and the other uniformed services that at this point we have to take this very serious because we can face a formidable competitor or adversary anytime in the future, it could be in the near future, it could be in the far future but it is important that we prepare today," Brawner said.
He added that the military "unwavering resolve, unparalleled skill and unwavering unity" will help it prevail over adversities.
"Every step that we take here, every decision we make will reverberate across our armed forces and the other uniformed service with the very (soul) of our nation," Brawner said.
Through the AJEX DAGIT-PA, he said the AFP will show the world that it is a force to be reckoned with.
He added that the drills will also help the military in identifying gaps and addressing them. (PNA)