By Priam Nepomuceno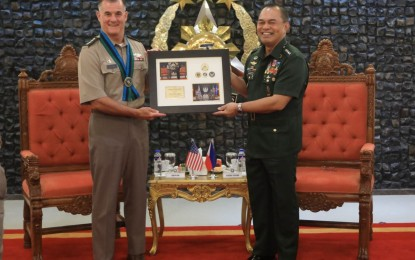 MANILA – Armed Forces of the Philippines (AFP) chief of staff, Gen. Andres Centino, on Wednesday met with US Army Pacific (USARPAC) commander, Gen. Charles Flynn, to discuss further cooperation between the two services.
This refers to Army-to-Army partnership, AFP public affairs office chief Col. Jorry Baclor said in a statement.
"The two generals discussed the (just concluded) 'Salaknib' Exercise and the ongoing Philippine-US 'Balikatan' Exercise, which formally opened yesterday. General Flynn mentioned that these exercises are essential opportunities for operationalizing EDCA (Enhanced Defense Cooperation Agreement) from the perspective of the military," he said.
Baclor said Flynn also looks forward to the conduct of similar engagements in other areas that could uplift local communities.
"They also discussed high-level engagements, such as the trilateral meeting with Japan and the Indo-Pacific Army Conference," he added.
Meanwhile, Centino warmly welcomed the USARPAC delegation and thanked them for their visit.
"I hope you have a memorable time on your trip here; we thank you for taking the time to visit us," he said.
Centino also assured Flynn of the AFP's continued partnership with the US Armed Forces in the Indo-Pacific.
The USARPAC chief thanked Centino and other ranking officials for their welcome.
"Our history as armies and nations runs deep. The sacrifices should not be forgotten; we should talk about this every time we get together about this brotherhood. Thank you so much for your commitment, leadership, and your effort. And to all of you and your families for what you do for your country and in making this commitment deeper and lasting," Flynn said. (PNA)