By Wilnard Bacelonia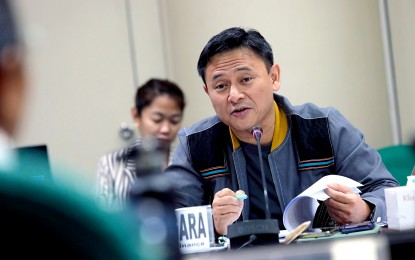 MANILA – Senator Sonny Angara on Wednesday said the recent video mess surrounding the newly launched "Love the Philippines' campaign by the Department of Tourism (DOT) "should not diminish" the accomplishments made by Tourism Secretary Christina Garcia Frasco in promoting the country to the world.
Angara also commended Frasco for swiftly terminating the DOT's contract with the advertising agency, DDB Philippines, for more promotional videos.
"Clearly there were issues with what was presented by the advertising agency but what is important is that Secretary Frasco acted immediately to address the issue and ensured that no public funds were wasted for this purpose," he said,
Angara said the DOT chief should be given a chance to redeem herself, citing the latter's efforts to revive the country's tourism industry after being hit hard by the coronavirus disease 2019 (Covid-19) pandemic.
"What the DOT has done over the past two years following the pandemic has been remarkable and with Secretary Frasco leading the charge in declaring the Philippines open for tourists, I am confident that [the] Philippine tourism will be able to reach new heights and the world will see the many reasons to Love the Philippines," he said.
According to Angara, the DOT recorded over two million international visitor arrivals in the country from January to the middle of May this year, which already breached the department's full-year 1.7 million targets.
From January to April, the DOT recorded PHP168.2 billion in inbound visitor receipts or 782 percent increase from the PHP19.1 billion in tourism revenues generated over the same period last year.
Under the leadership of Frasco, the lawmaker noted that the Philippines has received six nominations in the World Travel Awards Asia namely: Asia's Leading Island Destination; Asia's Leading Beach Destination; Asia's Leading Dive Destination; Intramuros as Asia's Leading Tourist Attraction; Cebu as Asia's Leading Wedding Destination; and the DOT as Asia's Leading Tourist Board.
Angara also cited the move of the DOT to develop the Philippines as a health and wellness tourism hub — an idea that he has been pushing for some time already.
The Philippines was also recently elected vice president of the 25th General Assembly of the United Nations World Tourism Organization and chairman of the Commission for East Asia and the Pacific. (PNA)