MANILA, November 4, 2010 (AFP) – President Benigno Aquino on Thursday urged the United States and other foreign governments to lift travel warnings over an imminent terrorist attack in the Philippines, saying they were unfounded.
The United States, Britain, Australia, Canada and New Zealand issued travel advisories this week warning an attack may occur at any time in the Philippine capital, and that areas frequented by foreigners were potential targets.
"We will express our displeasure. We believe there is no adequate basis," Aquino told reporters.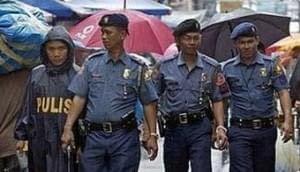 According to Aquino, a tip off from foreign security agencies said that a terrorist group not known to operate in the Philippines wanted to enter the country to assassinate foreign diplomats and Filipino security officials.
"The purported subjects of plots (are) several security officials and two ambassadors," he said without giving names.
"I am not sure I believe all of these," the president said.
"It adds unnecessary anxiety to our citizens. One has to question whether that was prudent," Aquino added.
Philippine foreign department spokesman Ed Malaya said Filipino security officials disagreed with the warnings.
"They are not really seeing any imminent threat," Malaya said on DZBB radio.
"Our expectation… is that they (foreign governments) will review and update their travel advisories so that it will be reflective of the generally peaceful conditions that we have."
The military and police said that troops in the sprawling capital of 12 million had been placed on heightened alert with sensitive locations being closely guarded.
Coastguard personnel armed with assault rifles patrolled the coast near the bustling Manila pier, while bomb sniffing dogs were deployed in the capital's packed overhead railway system and shopping malls.
But armed forces spokesman Brigadier General Jose Mabanta said the alert was only a precaution.
"There is nothing extraordinary. Everything is normal, people are going about their usual business," Mabanta told reporters.
National police chief Director General Raul Bacalzo also insisted there was "no specific area (of attack), no specific plan, no specific group."
The international travel warnings warned their citizens to take precautions when travelling to public areas in Manila, including shopping centres and airports. No groups were named as a specific threat.
The US said the threat was particularly high in the country's restive south, where several Islamic armed groups have for years launched deadly attacks.
Spokesmen for the US and British embassies said the warnings would remain in effect despite assurances from local authorities.
"The US embassy has a responsibility to inform our citizens of the security situation for the entire country," US embassy spokeswoman Rebecca Thompson told AFP.
The heightened alerts coincided with the arrest this week in Manila of a member of the Abu Sayyaf, a small group of militants based in the south founded with seed money from Al Qaeda in the early 1990s.
The group is on the US government's list of outlawed terrorist organisations and was blamed for the country's deadliest terror attack – the 2004 bombing of a passenger ferry on Manila Bay that killed more than 100 people.