MANILA, November 23, 2010 (AFP) – Philippine President Benigno Aquino rejected calls Tuesday to disband state-funded militias like the one allegedly used by a powerful family to carry out the country's worst political massacre.
Aquino said the government did not have enough money to rely solely on overstretched regular military and police forces to fight insurgencies, and as such had to use the cheaper alternative of state-backed paramilitary forces.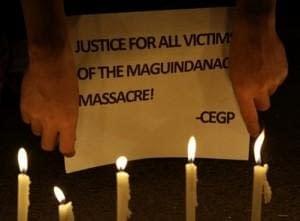 "If you hire more people (in the military and police) you increase the pension obligations that we obviously cannot support," Aquino told a news conference on the one-year anniversary of the massacre of 57 people.
"In the interim each community has a right to protect itself, especially those in far-flung areas, and the key to that are these CAFGUs (state-funded Citizens Armed Forces Geographical Units)."
But conceding that there have been complaints over alleged abuses by the paramilitary forces, which total 50,000 people, Aquino pledged stricter military and police supervision over them.
The paramilitaries are armed and given minimal training by the military, but are usually placed under the control of local government executives in remote areas where the state is fighting communist or Muslim separatist rebels.
Nearly 200 people, many of them paramilitaries under the effective command of a Muslim political clan, are accused of murdering 57 civilians in the insurgency-troubled southern province of Maguindanao a year ago on Tuesday.
Prosecutors allege the Maguindanao massacre was part of a plot by the Ampatuan clan to stop a rival's electoral challenge to its decade-old dominance of the provincial government.
The victims included relatives of the rival as well as 32 journalists covering the local political contest. More than 100 of the gunmen remain at large.
Human Rights Watch and Amnesty International have called on the government to disband all state-funded paramilitary forces, saying the military and police should have the responsibility for national security.