MANILA, Apr 19 (Mabuhay) – The latest round of fuel price hikes prompted an "issue-based" salvo Tuesday from the camp of former President Gloria Arroyo against the administration of President Benigno Aquino III.
Even as she said the opposition will limit its criticism to "issues," Arroyo's spokeswoman Elena Bautista-Horn chided the Aquino administration for failing to keep fuel prices down amid high world oil prices, like her boss did during her watch in 2008.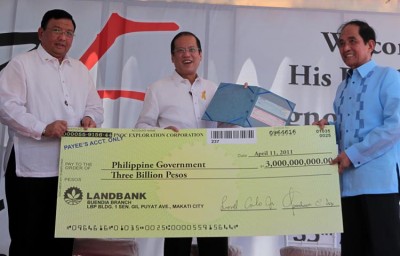 "Siguro let our record speak for itself…Ngayon $110 per barrel lang bakit P61 ang pump price? Noong [2008] $147 per barrel ang presyo ng krudo sa international market, hindi tayo umabot doon," Horn said.
"Those are the data from the past. I think the numbers will speak for itself," she added.
On Tuesday morning, fuel companies Shell and Chevron imposed a new round of fuel price hikes, including 60 centavos per liter for gasoline and 25 centavos per liter for diesel.
Horn's salvo came less than a week after Arroyo herself warned of a leadership vacuum under Aquino. Malacañang shot back, saying it is undoing the abuses under her watch.
Last Sunday, deputy presidential spokesperson Abigail Valte said the Palace is not keen on initiating a Holy Week ceasefire with the Arroyo camp and its other critics.
But Horn maintained the Arroyo camp will continue its critical collaboration with the Aquino administration, to criticize only when needed.
"Magsasalita kami kung kailangan magsalita at magko-cooperate kung kailangan mag-cooperate. It's Holy Week, ang aming position ay sana magtulungan tayo hindi magbangayan. Puro pulitika ang nakikita natin over the last few months," she said.
"Let's address the problems of Juan dela Cruz, huwag maging personality-based (Let's not be personality-based). It's not really helping the country," she added.
Horn also contested claims that the Arroyo camp started hitting back at the Aquino administration after tax evasion charges were filed against Arroyo's son, party-list Rep. Juan Miguel Arroyo.
Also, she contested claims by Malacañang that Mrs. Arroyo is "paranoid" and has no moral ascendancy to criticize the Aquino administration.
"There's no perfect administration. The important thing is to face the problems affecting the country. The minority and opposition's role is to provide critical opposition. But if the administration refuses that help, you can only do so much," she said.
Horn also said it is the administration that is picking a fight with them.
"You look at how things unfolded in the last few months, sila lang nag-aaway sa amin. Nagsasalita kami kung sobra ang ginagawa sa amin. Pero hindi kami nakikipagaway," she said. (MNS)