By Joyce Ann L. Rocamora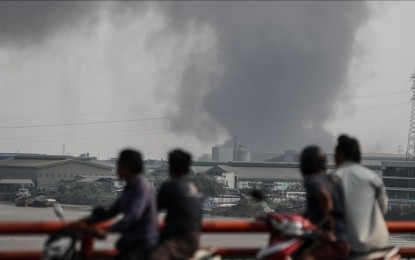 MANILA – The Association of Southeast Asian Nations (ASEAN) strongly condemned on Thursday Myanmar's deadly air attack in Pazigyi believed to have killed more than 100 villagers, including children.
"All forms of violence must end immediately, particularly the use of force against civilians," the bloc said in a statement.
"This would be the only way to create a conducive environment for an inclusive national dialogue to find a sustainable peaceful solution in Myanmar," it added.
Meanwhile, it reiterated its commitment to continue assisting Myanmar in seeking a "workable and durable solution to the ongoing crisis through promoting the full implementation of the Five-Point Consensus."
The Myanmar Armed Forces reportedly carried out the attack on Tuesday during a civilian gathering on the remote Pa Zi Gyi Village in the Kanbalu Township of Myanmar's Sagaing Region.
Myanmar-based Irrawaddy news outlet said the death toll has already topped 110 as of Wednesday afternoon and is expected to increase "as relatives and locals continue to recover charred bodies and limbs of the victims."
The news site said the air raid involved two bombs dropped on a house where a housewarming ceremony was being held.
"After the bomb attack, an Mi-35 combat helicopter sprayed the area with gunfire, inflicting further casualties and hindering the rescue operation. In the evening, a junta jet fighter conducted another air strike while locals were still collecting bodies from the morning attack," Irrawaddy reported. (PNA)