By Karl Malakunas
MANILA, February 25, 2011 (AFP) – Tens of thousands of workers from Asia's poorest countries have been left to fend for themselves in riot-torn Libya, as their governments struggle to bring them home, labour groups said Friday.
Their plight highlights the vulnerability of people from nations such as the Philippines and Bangladesh who travel abroad for work often without the safeguards enjoyed by expatriates from richer countries, they said.
"Some countries with significant wealth can react very quickly to a crisis but for other countries it can be very difficult," Lawrence Jeff Johnson, the International Labor Organization's Philippine office director, told AFP.
In Libya, Americans, Britons, Chinese and South Koreans have been able to rely on boats and planes chartered by their governments to escape the bloodshed unleashed by strongman Moamer Kadhafi as he has sought to crush a revolution.
But nearly 100,000 workers from the Philippines and Bangladesh remain stuck in Libya with their governments unable to provide anywhere near the same sort of assistance, and not nearly as quickly.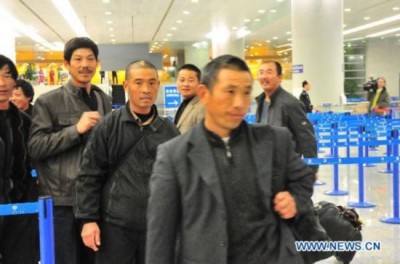 "There are severe limitations on what we can do. Perhaps if we were as rich a country as America then we could have consulates anywhere and everywhere," Philippine President Benigno Aquino conceded this week.
Aquino insisted his government was doing all it could to help the roughly 30,000 Filipinos who have been in Libya performing a wide range of jobs, from low-paid labouring work to skilled professional employment such as engineering.
However, with the violence in Libya raging for more than a week, the Philippine foreign affairs department said Friday a mission had only just arrived there and that charter flights had still not been arranged.
"We are very frustrated and alarmed at the way our government has handled this," Garry Martinez, chairman of Migrante International, a support group for Filipino workers abroad, told AFP.
"The response of our government has come too late. For nine days the violence has escalated and we haven't seen a blueprint for evacuations."
The plight of the estimated 60,000 Bangladeshis in Libya appeared even more bleak with the government in Dhaka saying on Thursday it had no firm evacuation plans for them.
"It is still not clear what measure we will be able to take to evacuate them, we are hoping to move them to safety," foreign ministry spokesman Syed Masud Khandker told AFP on Thursday.
In Thailand, relatives of the 23,000 Thais working in Libya lobbied local employment offices this week demanding help for their loved ones, amid reports those stranded were running low on food and water.
The Thai government reported it had begun evacuation efforts, with a ship expected to collect around 2,000 people from worker camps in Tripoli late on Friday.
It was then scheduled to return to Tripoli to pick up another 2,000.
The struggles for the stranded Asians in Libya highlights the importance for the region's migrant workers to do as much as they can to educate and protect themselves when going overseas, according to the ILO's Johnson.
"If you are going to migrate, how do you do it in a safe manner? Such as linking up with employment firms that are honest and reputable," he said, adding those companies should help the workers in times of crisis.
William Gois, Manila-based regional co-ordinator for labour rights group Migrants Forum in Asia, said rich governments should help evacuate all vulnerable workers in Libya and not just their own citizens.
"At times of crisis, this is not when you should discriminate against nationality," Gois said.