By Benjamin Pulta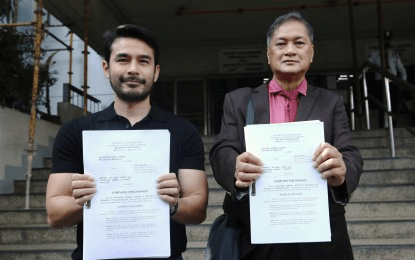 MANILA – Broadcast journalist Alfonso Tomas "Atom" Araullo on Monday filed a PHP-2 million damage suit against former anti-insurgency task force spokesperson Lorraine Badoy and Jeffrey Celiz for allegedly linking him to communist terrorist groups (CTGs).
Accompanied by counsels Tony La Viña and Rico Domingo, Araullo filed the civil complaint before the Quezon City Regional Trial Court.
La Viña said the defamatory remarks by Badoy and Celiz against Araullo on national television and social media platforms have affected his reputation and standing.
"Mr. Araullo, as a seasoned journalist, television anchor, documentary filmmaker, and co-founder of an independent media organization, has built a credible reputation centered around integrity and truth-telling. These baseless and malicious attacks not only tarnished his reputation and professional credibility but also endangered his personal safety and that of his mother," La Viña said.
"In seeking redress, Mr. Araullo claims nominal, moral, and exemplary damages amounting to Two Million and Seventy Thousand Pesos (PHP2,070,000)," he added.
La Viña said Araullo is also pursuing reasonable attorney's fees and costs of litigation, "highlighting the fact that the need for legal action arose directly from the need to vindicate his rights and assert the truth against the false narratives presented by the respondents."
Badoy and Celiz are among the hosts of the show Laban Kasama ng Bayan over Sonshine Media Network International (SMNI). (PNA)