Officers and members of the Aurora Inter-Organizational Alliance-USA intensify their drive to launch projects to help President Manuel Luis Quezon's birthplace sustain its tourism development as it gears toward celebrating its 3RD founding anniversary alongside the observance of Aurora Province 32nd year of provincial independence.
Aurora Province, which is now touted as the next tourism frontier and known for its bio-diversity, pristine beaches, awesome waterfalls and rivers, is now the object of curiosity among adventurers and tourists.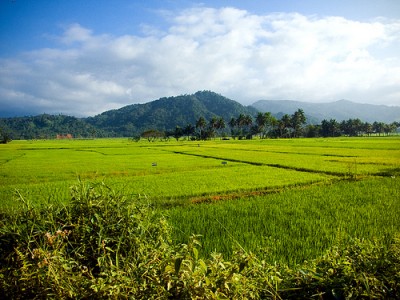 Violeta Feraren, the association's secretary speaking for AIOA-USA, said the effort of the association is in tune with the provincial government's drive to attract investors and tourists to help the province wiggle out from that of being a laggard to that of a progressive province.
Feraren announced the association will conduct simple festivities on February 19, starting at 6 p.m. at 10591 Mills Avenue, Montclair, CA 91763 to honor Aurora Aragon-Quezon to which the province was named after. During the event, the association will give tribute to immigrant parents who have guided their children gained inroads in their respective career through hard work. The association, now on its third year, has distributed computers to distant and poor barangays throughout the province's eight towns to ensure that at least, the basic use of computer can be accessed by elementary pupils in their bid to attain secondary and collegiate education.
At present, the association is ready to ship another 36 computers, for distribution this year. AIOA-USA, said Feraren is also sending used clothes to the far flung areas of the province, in order to help indigent parents cope up with the basic necessities, like clothing during calamities that visit the province annually.Feraren said, the association's president Dante Rubio, conveys his message of gratitude to those who have helped the association, through their financial support, during the past two years without which the implemented projects would not have taken place.
Feraren also called on fellow Auroranians, those from Maria Aurora, Dipaculao, San Luis, Dingalan, Dinalungan, Dilasag, Casiguran and Baler to get in touch with her at tel. no. 562-466-6403, Lucy Gonzales-Entac, tel. no. 818-428-9906; Dr. Belen G. Guerrero, 626-794-5806; Rose Mangosong, 805-478-4784; Roland Protesta, 562-691-2136 and Nita Ocampo, 909-590-4747.During the affair, food will be served, native folk dance will and an assortment of talent, both local and international, will to be performed to entertain the guests.