By Joyce Ann L. Rocamora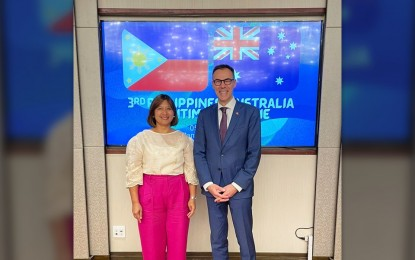 MANILA – Australia will maintain its presence in the region, including the South China Sea, as it cites its stake in the vital sea lane.
The statement was made during the 3rd Philippine-Australia Maritime Dialogue held on July 5 in Manila, which was co-led by Department of Foreign Affairs (DFA) Assistant Secretary Maria Angela Ponce and Australia's Department of Foreign Affairs and Trade First Assistant Secretary for US & Indo-Pacific Strategy Division Peter Sawczak.
Australia will continue promoting the international law and a rules-based regional order, Sawczak said in his remarks, reiterating support for the arbitral ruling that invalidated China's sweeping claims over the vital sea lane in 2016.
"In 2013, the Philippine government took the significant step of initiating arbitral action under UNCLOS. Nearly seven years have passed since the 2016 South China Sea Arbitral Award was issued. Australia reaffirms that this award is final and binding on the parties," he said.
"It remains as important as ever that the parties abide by the award and that we continue to uphold and promote international law, particularly UNCLOS."
He noted that Australia, like all states, has a "vital stake in the openness and stability" of the area and is committed to continuing its "longstanding presence in the region, including in the South China Sea".
This week alone, the Philippine Coast Guard (PCG) reported that two of its vessels were "constantly followed, harassed and obstructed" by Chinese vessels off Ayungin Shoal.
The DFA did not indicate the specific topics during the meeting but said "regional threats and challenges" were both discussed.
Discussion also focused on opportunities to improve bilateral maritime cooperation, including maritime safety and security, marine environmental protection, and defense cooperation.
"The third Philippine-Australia Maritime Dialogue further strengthened our maritime partnership framework. We discussed emerging regional trends, shared responses to challenges and new opportunities for Australia-Philippines collaboration," Australian Ambassador HK Yu said Thursday.
A Track 1.5 dialogue preceded the discussions with both the foreign ministries and partner institutions such as the University of the Philippines Institute for Maritime Affairs and Law of the Sea for the Philippines and La Trobe Asia for Australia taking the lead.
For Ponce, the partnership sets the trend towards a "fuller realization of the role maritime security and cooperation plays in the bilateral agenda — which is only natural given that both the Philippines and Australia are maritime nations."
The Australian delegation also visited the headquarters of the PCG and the National Coast Watch Center Operations Room and went aboard the 56-meter Search and Rescue Vessel (SARV) BRP Batangas, one of the eight SARVs made by the Australian company Tenix Defence Systems and turned over to the PCG in the early 2000s.
The PCG noted that these Tenix-made SARVs were their workhorse in maritime safety, maritime security and law and enforcement, search and rescue, and marine environmental protection.
The delegations of the Philippines and Australia expect to meet again at the 4th Philippine-Australia Maritime Dialogue in 2024. (PNA)