By Jean Malanum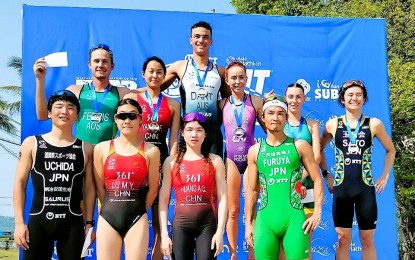 OLONGAPO CITY, Zambales – Australians Oscar Dart and Charlotte McShane ruled the sprint senior elite category in the 30th Subic Bay International Triathlon (SuBIT) at SBMA Freeport Boardwalk here on Sunday.
Dart claimed the gold medal in the men's division after posting the best aggregate time of 52 minutes and five seconds in the 750-meter swim, 20-kilometer (km), bike and 5-km run race of the event billed as the 2023 NTT AST Subic Bay Asia Cup.
Joshua Ferris, also from Australia, placed second (52:12), while 2022 champion Ren Sato of Japan was third (52:23).
Sato's teammates, Genta Uchida (52:29) and Jumpei Furuya (52:38), finished fourth and fifth, respectively.
"It feels really good winning this tournament because it's my first continental title," said Dart, who turned 22 last month.
"I was a little bit surprised but I was ready. At the start of the race, I know I can win. When I finished third last year, for me, that's a really big result because it was my first podium ever," added the 6-foot-5 native of Melbourne.
McShane, who was born in Scotland but moved with her family to Australia in 2005, topped the women's division in 58:43.
Chinese Yifan Yang registered 58:54 to settle for second place, followed by Australian Ellie Hoitink (58:58).
The rest of the top 10 finishers were China's Meiyi Lu (58:54) and compatriot Angi Huang (59:07), Japanese Manami Hayashi (59:21), Hungarian Zsofia Kovacs (59:23), Slovakians Zuzana Michalickova (59:30) and Romana Gajdosova (59:37), and Japanese Chisato Nakajima (59.40).
Filipino-Spanish Fernando Jose Casares, the 2021 Southeast Asian Games gold medalist, landed in 25th position in the 66-strong men's field with a time of 54:46.
Three-time SEA Games gold medalist Marion Mangrobang (1:01:07) was 24th out of 48 entries in the women's division. Kira Ellis was 32nd (1:03:09), followed by Faith Raven Alcoseba (1:03:24), both from Cebu.
Meanwhile, Renz Wynn Corbin and Karen Andrea Manayon of Talisay, Cebu ruled the Under-23 Elite category.
Corbin clocked 1:01:38 to beat Irenold Reig Jr. (1:04:13) and Mark Joshua Perez (1:04:58).
"I am proud and grateful to everyone," said the 5-foot-7 Corbin, an information technology freshman at the University of San Carlos in Cebu City.
It was his first title since he started joining the tournament in 2016.
Manayon, on the other hand, submitted a total time of 1:08:41 to prevail over Lauren Plaza (1:08:51) and Bea Marie Quiambao (1:09:18).
"I think I should improve my time and do better in the last race," said Manayon, the winner in 2017, 2018 and 2019.
"On our 30th year edition, I am happy to say and that the experience we have, one of the strongest elite fields that have participated in this SuBIT event. We got what we wanted, to expose as final tune-up event for our national team going to Cambodia. Nothing will be stronger than this event," Tom Carrasco, president of the organizing Triathlon Association of the Philippines, said in an interview. (PNA)