By Christopher Lloyd Caliwan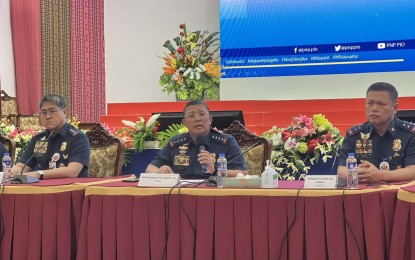 MANILA – Philippine National Police (PNP) chief Rodolfo Azurin Jr. on Monday denied recent reports that there is alleged cover-up in the arrest of a police sergeant who yielded 990 kilograms of shabu worth PHP6.7 billion.
Azurin, in a press conference in Camp Crame, said he ordered the creation of the Special Investigation Task Group (SITG) 990 upon the recommendation of former PNP-Drug Enforcement Group (PDEG) chief Brig. Gen. Narciso Domingo, whose men later pilfered some 42 kilos from the bulk of shabu in the lending office owned by Master Sgt. Rodolfo Mayo where the 990 kilos were confiscated.
"The move is an indication of my strong resolve to get to the bottom of these illegal drug activities, that I am serious about unmasking the members of the syndicate — whether in the government or crime group. Contrary to what many of our critics say, let me also categorically say that there was no attempt to cover-up or to exculpate PMSgt Rodolfo Mayo from his involvement in the illegal drug operations," Azurin said.
He admitted he was aware of and approved the tactical plan to use Mayo in order to get bigger fishes involved in the illegal drugs trade.
He also maintained that there was never a plan to set Mayo free and not charge him over the recovery of illegal drugs in his possession.
Asked why he just spoke now after a week that the issue was disclosed by Interior and Local Government Secretary Benhur Abalos, the PNP chief said, "I have to give 'yung mga ibang naakusahan their time to also explain their side. Kaya nga inuna natin si Domingo (I have to give the other accused chance to also explain their side. That's why we put Domingo first) because he also has something to say."
Azurin also vouched for Domingo's credibility and integrity as a police officer saying that he is "certain" that he has no involvement in the illegal drugs trade or any interest in it.
"I placed Gen. Domingo in PDEG because during the time I was assigned to DRPM [Directorate for Personnel and Records Management], I knew the official and I am certain that Gen. Domingo has no involvement in drugs. He is not tainted with that, so I have to put someone who is not tainted there because I do not know the people there in PDEG)," he explained.
Abalos, meanwhile, said that all bases must be covered to ensure that the cases against the police officers involved in the 990 kilos shabu haul seized in Oct. 2022 will not be dismissed.
In a press briefing on Sunday at the SMART Araneta Coliseum, Abalos pointed out that the personalities shown in the CCTV footage have a lot of explaining to do to determine what transpired in the PHP6.7 billion worth of shabu seized from Mayo on Oct. 2022 in Manila.
He noted that having an air-tight case against the said cops is 'napakaimportante (very important)', that is why an intense investigation is being conducted.
'Tougher replacement'
Meanwhile, seven days before his retirement, Azurin said he wants his replacement to be tougher and level-headed than him.
"Definitely, ang ire-recommend ko nga yung mas mahigpit pa sa akin dahil nagle-level up tayo. Kung mapapansin mo ako yata ang isang Chief PNP na walang asim at walang arrive. Yun ang nasa record kaya ang kailangan natin yung nagle-level up pa. Hindi natin kailangan yung wala siyang prinsipyo, wala siyang commitment sa Presidente. Let us not compromise the President. He is the only person we've got para i-angat ang ekonomiya ng bansa natin na ito. Huwag natin walanghiyain ang Presidente natin (I will definitely recommend the one that is stricter than me because we are leveling up. If you notice, I think I am a Chief PNP who is a low profile, that's what's on the record. What we need is someone who will level up. We don't need someone who has no principle, no commitment to the President. Let's not compromise the President. He is the only person we've got to lift the economy of this country)," Azurin told reporters in a press briefing held at Camp Crame on Monday.
"As I hang my police uniform seven days from now, I hold my head high knowing that I have served the country, and the 228,000-strong PNP well — with my integrity and credibility intact, that I will conclude my tour of duty, knowing fully well I have done my job to my people, my country and our almighty," Azurin added, who is a member of the Philippine Military Academy "Makatao" Class of 1989. He was appointed by Marcos as the country's 28th top cop in August last year.
Among the possible contenders for PNP chief are the three top officers of the command group — deputy chief for administration Lt. Gen. Rhodel Sermonia, deputy chief for operations Maj. Gen. Jonnel Estomo and Lt. Gen. Michael John Dubria, chief of the directorial staff.
Other contenders are Directorate for Intelligence chief Maj. Gen. Benjamin Acorda, Directorate for Investigation and Detective Management chief Maj. Gen. Eliseo Cruz; Criminal Investigation and Detection Group chief Brig. Gen. Romeo Caramat Jr. and National Capital Region Police Office head Maj. Gen. Edgar Alan Okubo
Azurin is set retire upon reaching the mandatory age of 56 on April 24. He has been in the police service for over 38 years, and the first PNP chief of the Marcos administration. (PNA)