By Nanette Guadalquiver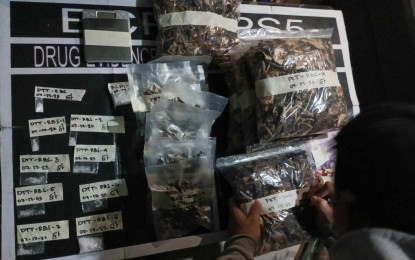 BACOLOD CITY – Anti-drug operatives of the Bacolod City Police Office seized a total of 3.61 kg. of psychedelic or magic mushrooms valued at PHP361,000 from three suspects during a buy-bust in Barangay Cabug here Monday night.
The suspects were identified as siblings Diane Tuazon Tolmo, 35, and Franz Jovi Eleccion Tolmo, 26, and their companion Fierre Milabo Santillana, no age given.
During the operation at a residence in Block 6, Lot 37 of the One Community Subdivision at about 10:35 p.m., the police poseur-buyer purchased PHP500 worth of suspected shabu from one of the suspects, which also led to the recovery of 13 grams of the illegal drug, with an estimated street value of PHP88,400, aside from the magic mushrooms.
According to the police report, operatives recovered two big, five medium, and two small heat-sealed sachets containing suspected shabu, as well as one big, five medium, and 11 small transparent plastic bags of magic mushrooms.
Containing the hallucinogenic chemical psilocybin, magic mushrooms are used as an illegal drug substitute as they can cause hallucinations, euphoria, and depersonalization when consumed.
Maj. Joery Puerto, chief of Police Station 5, said in a radio interview on Tuesday the younger Tolmo offered to sell magic mushrooms to an undercover policeman and during the operation, they recovered the rest of the supply.
"Based on the interview with Franz Tolmo, it can be mixed with food and chocolates and can also be brewed into tea. It is also like marijuana. They sell these online," he added.
Puerto said the magic mushrooms, which are sold by the suspects for PHP1,000 per 10 grams, are illegal because their use is not registered with the Food and Drug Administration.
"Franz Tolmo said they source it from Don Salvador Benedicto (town) as these are wild mushrooms," he said.
Psychedelic mushrooms fall under Schedule I of the United Nations Convention on Psychotropic Substances in 1971, which the Philippines ratified in 1974.
Meanwhile, Puerto said they have long been monitoring the movement of Diane, whose other sibling also has a drug-related case. (PNA)