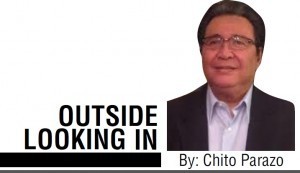 Despite strong public indignation over the implementation of a new "draconian" policy to be adopted by the Bureau of Customs (BOC) regarding balikbayan boxes, President Aquino appears to be firm in his decision to execute the controversial scheme.
In his recent speech he made in Cebu, President Aquino made a flimsy excuse of implementing the controversial and unpopular BOC plan in an effort to curb "technical smuggling" in the country. He told his yellow ribbon fanatics in Cebu to give BOC personnel a chance to do its job, which at the moment has been put on hold.
The government is claiming that it is losing P600 million a year to untaxed imports through "balikbayan boxes." However, a study conducted by Global Financial Integrity is showing that the Aquino administration losses in revenue through balikbayan boxes  was minimal compared to the estimated $3.85 billion lost to smuggling in the country.
Once implemented, the new BOC plan as approved by President Aquino will allow corrupt customs personnel to start doing random checks on all the contents of all balikbayan boxes entering the country and to tax those exceeding $500,00 in value.
The new BOC policy reflects on President Aquino's insensitivity and callousness toward hardworking and often abused OFWs. This President is the most heartless, uncaring and unforgiving President I have ever known. He is much, much worse than former President Ferdinand Marcos.
At least Marcos allowed Senator Ninoy Aquino to fly to the United States to have a heart bypass surgery to prolong his life.
This latest controversial BOC policy will surely hurt the chances of DILG Secretary Mar Roxas of being elected the country's next President.
Shortly after the new BOC policy regarding balikbayan boxes was announced, thousands of overseas Filipino workers have turned to social media to vent their ire over the decision of the BOC to conduct random inspection on balikbayan boxes.
Government statistics show that there are close to 2.6 million OFWs  working all over the world, many of them based in the Middle East. Some are in Europe, United States, Canada, Japan, Singapore, Hong Kong and in the African continent.
Just imagine the total number of voters Secretary Roxas will lose come election day next year. I expect all these dejected OFWs and their relatives to vote for someone else other than the perceived presidential candidate of Aquino which is Roxas.
No less than Labor Secretary Rosalinda Baldoz, a staunch Aquino supporter, has  expressed her resentment on the new BOC policy on " balikbayan boxes. Baldoz , in a press statement, said that the monetary value inside a balikbayan box of an OFW is not so high or great to merit BOC's special interest for revenue generation.
Let us wait and find out if the widespread outrage on the balikbayan boxes controversy would  compel President Aquino to stop the BOC from conducting random checks on balikbayan boxes.
Meanwhile, Senator Antonio Trillanes is now on center stage. Vice President Jojo Binay is asking the Senate Ethics Committee to probe Senator Trillanes for allegedly using P1.63 million of public funds for personal expenses.
A news report found out that Trillanes is using more than half of his budget allocation to pay his 63 consultants, which includes his brother, family drivers, houseboy, campaign donors, media workers and ex-mutineer friends.
Based on COA report, Trillanes paid all his consultants an estimated P9.77 million from July to December last year, exceeding his budget of P3.30 million. His two campaign donors, identified as Robert Fong and Fabian Go, were each paid P80,000 a month as consultants.
Trillanes is one of three Senators in the Senate Blue Ribbon Subcommittee investigating VP Binay and his family of unexplained wealth and corruption during their tenure as Makati city mayors.
Let us see if Senator Franklin Drilon, a known stooge of President Aquino, will not lift a finger to prevent the Senate Ethics committee to conduct a probe.