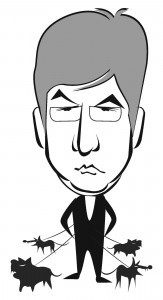 By:  Rhony Laigo
ATTORNEY James G. Beirne lashed back at a newspaper tabloid which published an article that stated he will be subjected to a trial and that he will go to jail.
This developed as court records showed that Beirne's competitor, Atty. Joel Bander, is apparently the owner of Pinoywatchdog, the newspaper that has been maligning Beirne and the staff of Balita.
According to Beirne there's no truth to Pinoywatchdog's claim that Beirne will be tried on Feb. 27. On the contrary, Beirne said that it will be Bander who might soon be facing legal problems as soon as Beirne and his legal team launch their counteroffensive that is expected to put an end to Bander's black propaganda.
"They're lying," Beirne said. The claim by Pinoywatchdog tabloid that a judge may sentence Atty. James G.
Beirne to jail for "contempt charges"  is not true and will never happen, he added.
In its Feb. 4 issue, the so-called "PWD investigative team" of Pinoywatchdog claimed in what they called as their exposé, they wrote that Beirne will be prosecutedand will be tried by a certain "Trial Attorney Wilson."
But is it turned out, there will be no hearing that they said will take place on Feb. 27 and that what they wrote as Beirne's no regard to "observing the law" or that he's been "deceiving the public" was just another attempt by Bander and by the PWD "investigative reporters" to malign Beirne.
In their article, the PWD writers said that Beirne has violated "more than 200 court contempt violations" and stated that Beirne is "making a mockery of (US) justice."
The so-called "investigative reporters" even claimed to have been "tallying all these violations" and without basis also said that Beirne, if convicted, will be in "hock for thousands of dollars in fines or in jail for several years."
The PWD article even quoted Atty. Dennis Wilson as saying "Beirne is violating court order and doing other things; (that) doesn't seem right" It also quoted Wilson as saying "Beirne is involved in publishing things about Joel (Bander) that are not true."
Balita tried to contact Wilson to clarify his supposed claim. However, after leaving a message to his answering machine, the lawyer hired by Bander to "try" Beirne has yet to return our call. Balita also wanted to find out how much it would cost Bander "" who filed for bankruptcy for his law firm in 2010 "" to hire Wilson.
Balita also wanted Wilson's comment on the supposed trial on Feb. 27 that will never take place and if he is aware that Bander and is facing or had faced several lawsuits in the past which were filed by his own clients, in particular when his Bander Law Firm was still in existence.
According to Beirn's lawyer, the claim that his client violated "hundreds of charges of contempt of court" for allegedly "false and misleading advertising" were "trivial and non-existent."
Meanwhile, Bander, the same U.S. lawyer who faced sexual molestation charges in the Philippines and who reportedly "scammed" hundreds of homeowners in the failed mortgage litigation program, is the real person behind the smear campaign against Atty. James G. Beirne and Balita Media.
This surfaced after credit card payment receipts showed that Bander was the one paying to print Pinoywatchdog.com, a newspaper tabloid that has been publishing articles maligning Beirne and the staff of this newspaper, including the author.
In court filings made by Beirne's lawyers, Atty. Jack M. Lapedis said it is clear that Bander has "hatred" for Atty. James G. Beirne. Not only does Bander maligning Beirne, Lapedis said Bander is also using Pinoywatchdog to "solicit specifically Mr. Beirne's former and current clients, but not the former or current clients of other attorneys."
Lapedis said based on subpoenaed documents, it is clear that "Mr. Bander is using Pinoywatchdog, a newspaper that
Mr. Bander is apparently behind financially."
Credit card payments made to a printer showed Bander's signature as shown in the merchant receipts.