By Joyce Ann L. Rocamora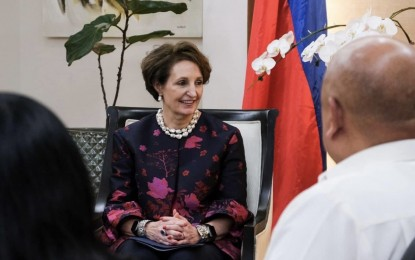 MANILA – The governor of Batanes has brought up several potential development projects for the United States' consideration, US Ambassador to the Philippines MaryKay Carlson said Thursday.
On the sidelines of a post-Independence Day celebration in Baguio City, Carlson confirmed that she and Batanes Governor Marilou Cayco met at the US Embassy in Manila "a couple of months ago" and discussed possible development cooperation.
She said the governor had laid down a list of projects that the US Agency for International Development may be interested in investing in, including providing solar lights, street lights and the construction of a breakwater to allow cargo ships to dock safely when waters on the islands are rough.
Carlson, meanwhile, did not elaborate on the reported discussions to develop a US-funded civilian port in Basco, Batanes.
"We're looking at a number of things but in terms of the specific with the port, that's still to be determined," she told reporters.
Reuters earlier reported that the "US military" is in talks to build the port, which is intended to assist in the unloading of cargo when the existing port is inaccessible.
Citing Cayco, the newswire said a decision on the proposal could be made in October. (PNA)